More than 850 participants attended training sessions on preventing of conflict of interest and control of income and asset of public officials in education. Since March 2018, 14 training sessions in 12 cities across Serbia have been held for directors and secretaries of preschool institutions, directors and secretaries of primary, secondary and higher schools, as well as deans and secretaries at faculties organized by the European Union funded project Prevention and Fight against Corruption in cooperation with the Anti-Corruption Agency and the Ministry of Education, Science and Technological Development.
The officially marking of the completion of a series of successful training sessions was held on 7th of March 2019 in the city Municipality of Vracar in Belgrade. The participants were greeted by the President of the Municipality of Vracar Milan A. Nedeljkovic.
"I am very proud that the European Union is funding this project which is supporting Serbia in achieving tangible results in the fight against corruption. This topic is of fundamental importance not only for Serbia's European future, but also for the country's social and economic development, for the people of this country, their sense of justice, and for the quality of their governance", said Ms. Mateja Norcic Stamcar, Deputy Head of the EU Delegation to the Republic of Serbia addressing the audience.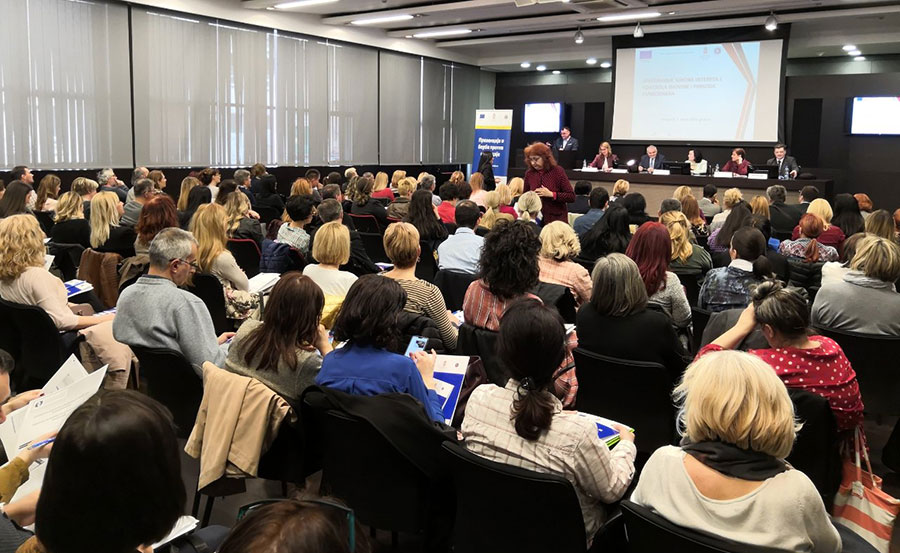 She added that in adopting its own Action Plan for the implementation of Chapter 23 Serbia committed itself to identify with EU policies and standards.
"The EU remains a partner with Serbia in implementing this plan as the biggest donor in Serbia. Through the many foreseen accomplishments of this project, it is envisioned that Serbia will indeed satisfy its commitments and tackle the many hard tasks ahead.  And let me stress again that it is not for the sake of EU accession, but more importantly for the protection and well-being of the citizens of the Republic of Serbia", she stressed.
In continuation of the event, participants were addressed by Verka Atanaskovic, Assistant Director, Anti-Corruption Agency, Department for Conflict of Interest and Lobbying issues, Jovan Bozovic, Assistant Director, Anti-Corruption Agency, Property Control Department and Anamarija Vicek, State Secretary, Ministry of Education, Science and Technological Development.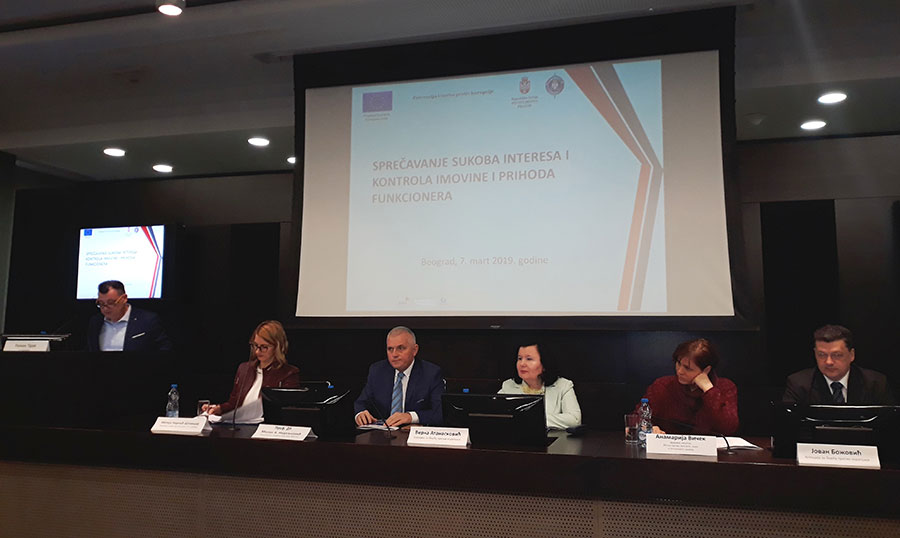 More than 150 participants who attended the last training in this series of training sessions, got the knowledge needed on legal, practical and procedural aspects on conflict of interest and control of income and assets, necessary to fulfill their duties mandated by the Law on the Anti-Corruption Agency.
They were presented with the duties of officials in the area of prevention of conflicts of interest, the procedure for establishing a violation of the provisions of the Law on the Anti-Corruption Agency and submitting a request for initiating misdemeanor procedures. Participants were also familiar with the reporting of the property of officials, the importance of public procurement in education, etc.
The training was led by Miroslava Cetina, Milica Lazic and Almira Medunjanin from Anti-Corruption Agency.
For more information about the project: http://www.protivkorupcije.rs