Head of the European Union Delegation in Serbia, Ambassador Sem Fabrizi, participated in the launch of the EU for Serbia – EBRD SME Advisory Support Programme financed by the European Union, and implemented by EBRD in cooperation with the Ministry of Economy of the Republic of Serbia. This event, held in Belgrade on March 13, was also attended by Mr. Milun Trivunac, the Ministry of Economy State Secretary, and Zsuzsanna Hargitai, EBRD Director for the Western Balkans.
In his opening remarks, Ambassador Fabrizi said that since 2001, the EU has allocated more than 200 million euros for projects aimed at improving and strengthening various sectors of the Serbian economy, especially the Small and Medium Size Enterprise (SME) sector.
"This 2,2 million euros worth four-year project will help at least 130 Serbian companies to grow, become more competitive, gain access to finance, acquire innovative technologies and management tools. In short – to be better equipped to face challenges on the road to EU accession, " the Ambasador said.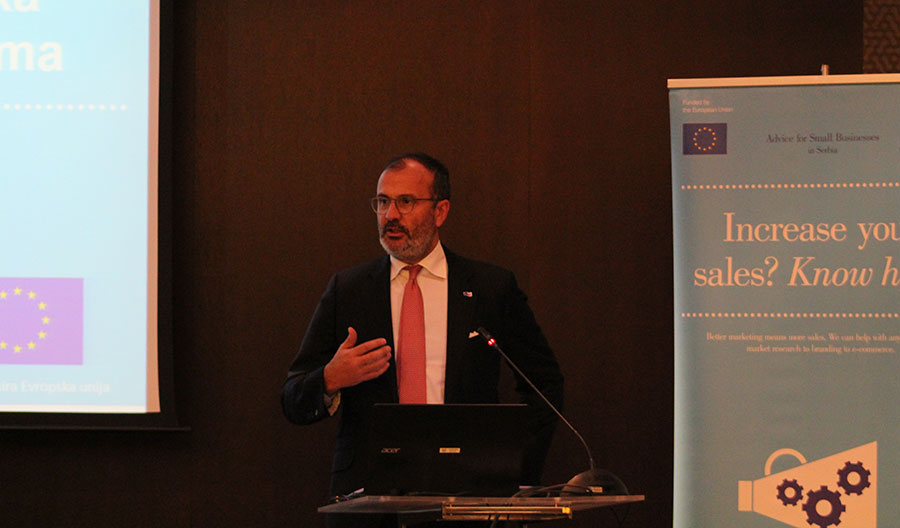 In addressing the attendees of the event, the State Secretary Trivunac emphasized the Ministry of Economy goal to further strengthen the support of the development of SMEs, and entrepreneurship through various projects.
"Significant support for the development of small and medium-sized enterprises is also realized through partnership with the European Union, namely though programs such as, COSME, and WB EDIF, the Western Balkans Enterprise Development & Innovation Facility (WB EDIF), an innovation scheme for Serbia, worth around 180 million euros," he remarked.
EU for Serbia – EBRD SME Advisory Support Programme will provide access to high-quality local and international advisory services to a minimum of 130 Serbian SMEs. It will also improve the quality and supply of local business advisory services, by training over 45 local consultants to deliver business support to SMEs and provide transfer of best practice know-how to public institutions that have an SME mandate, like Serbian Development Agency (RAS).  Project started in December 2018 and will end in December 2022.