A debate titled "Migration as a challenge for Serbia and the EU" which took place in Belgrade, was an attempt at answering the question whether the migration is a challenge, an issue or an inherent characteristic of the time and the world we live in. Participants in the debate, Dean of the Faculty of Political Sciences, Dragan R. Simic, Director of the IOM Office in Serbia Lidija Markovic and Dragan Zivojinoviv of the Faculty of Political Sciences, agreed that there should be a universal approach to treating migrants, in Europe in particular.
"Current migration flows affect multiple countries and regionw simultaneously and are dealt with by different institutions and states at all level and controlled by various actors. This is why the time we live in is frequently described as the era of migration. The combination of two or more causes of migration has resulted in shifting our focus from legal or irregular migration to mixed migration. This is the biggest challenge for every affected country," said Lidija Markovic.
Dragan R. Simic stressed the importance of migration as a social topic and added that we were witnessing the process which can be named the renationalization of globalization, describing the handling of migration crisis by the EU Member States as extremely inadequate. "The sudden, all-embracing, enormous wave of migration did catch European societies by surprise, leaving behind marks which have made clear that the EU was acting contrary to the values it had been built on, thus challenging its own principles," he said. Simic recalled that Serbia has proven to be rather skilled and humane in dealing with the issue and set example for other countries to follow.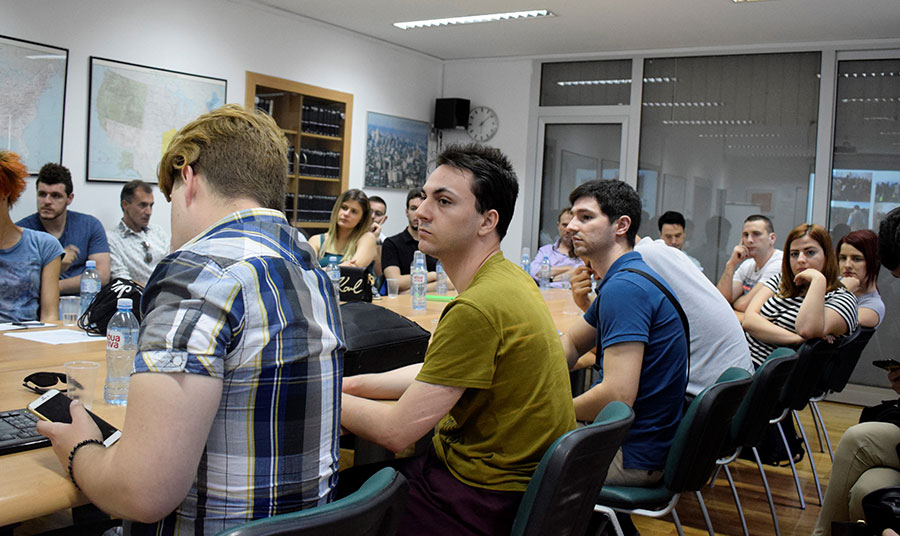 "Migration covers every aspect of life, they are neither good nor bad, but depend on the context in which they occur. Even though the Berlin wall was torn down, we are living in the world that is marked with the re-erecting of walls that are deeply linked to migration. People believe that internal security requires walls to protect them. The European Union, however, cannot escape the reality of migration due to its geographical location, the way Serbia, occupying the central position on the Western Balkans migration route, cannot escape its own geography," Zivojinovic said. According to him, this is not a decisive, but nevertheless an important element of the solution to this problem.
The debate is part of a series of events organised jointly by the European Movement in Serbia and the Faculty of Political Sciences in 17 towns in Serbia in cooperation with the European Movement in Serbia's branches in Sremska Mitrovica and Kraljevo. The debates are being held in the framework of the project EU 2 Me supported by the EU Delegation to Serbia with a view to starting discussions on the topics pertinent to Serbia's process of European integraton and giving Serbian citizens correct and useful information.
The article was originally posted on the web-site of the European Movement in Serbia