Dobro Veče i Dobrodošli svima!
Srećan vam Dan Evrope!
Rebecca and I warmly welcome you to this celebration of Europe Day.
It has become trendy in national Days to be short and crispy; you will bear with me if I will be a bit longer than the current trend, at least because a Union of half a billion people and a country in the process of joining it require a few additional sentences.
Europe Day – is an occasion to reaffirm the importance of peace and lasting reconciliation in Europe and beyond.
Today is also Victory Day. The victory we celebrate is not of winners over losers, but of Victory of peace over war, reconciliation over hate, prosperity over misery, shared destiny over national egoism.
The declaration of 9th of May in 1950 from the French foreign minister to his fellow European colleagues was an act of faith in the Victory of Peace and reconciliation.
A new paradigm to prove that in Europe – after terrible wars – another way of living was possible.
The declaration was both visionary and realistic- Put Europe before national egoism and let cooperation prevail over competition. Be pragmatic and build Europe step by step, starting with coal and steel.
Put openness before closed doors as this new way of thinking should be open to all Europeans.
Fast forward – and we see that 3 these simple but revolutionary concepts have turned – over  seven successive decades – Europe from an impoverished, morally destroyed and divided land, to a reunited and self-confident continent: an immense space of freedom, democracy, and prosperity, where half a billion people live in peace and security.
We should be proud of what we have achieved. The EU deserves the right respect for these achievements. Of course, we had many difficult days, too. But we have always proved the back peddlers wrong.
They have predicted the end of the euro after the Eurozone crisis; or the domino effect after the British referendum, or the end of the Schengen system after the migration emergency. Others foresee catastrophic outcome of the upcoming European elections. We will continue to prove them wrong. Because the reasons of our stay together are stronger than those who want to undermine our way of life.
Dear friends, as the 9th of May is an occasion to celebrate our past and present, it should be also a moment to reflect on our future.
The world we are living is changing, the economy and technology are evolving, new geostrategic challenges are emerging, and the EU should be able to shape its own future.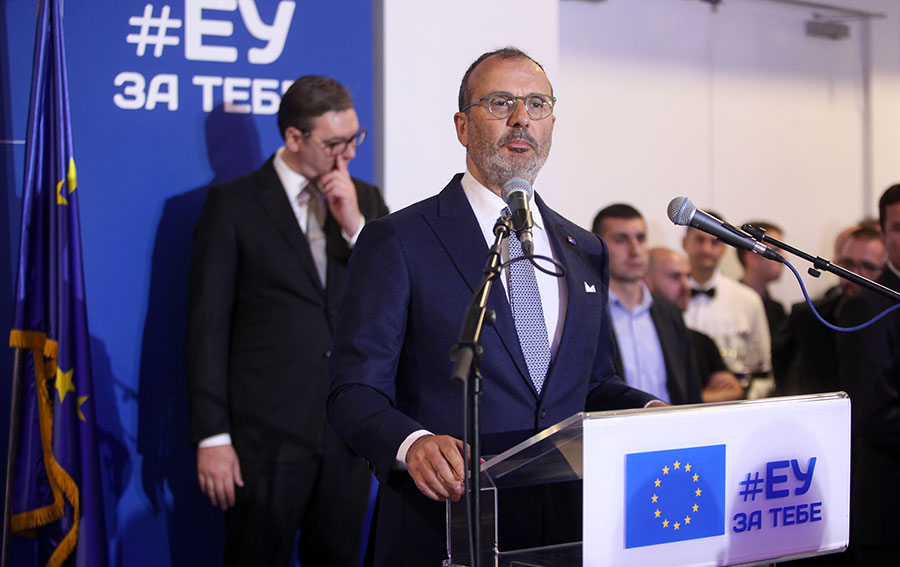 It is not by chance that earlier today, in Sibiu, in Romania a close neighbour who joined the EU a decade ago and proudly holds the rotating presidency for the first time since its entry into the family, the leaders of the EU gathered to send a message of hope and pledge a strong commitment to remain united and make Europe safer, stronger, more prosperous, more democratic, and a responsible global leader.
EU Leaders have also recognized the European perspectives of the others European States.
My Serbian friends, as we mark Europe Day throughout the world, this celebration in Serbia is particularly meaningful. You have chosen the European way of life and to be part of the EU family.
Living in this country I recognise the EU is a natural choice out of geography, history, economy, but more importantly in my view, because of the outlook of your society which is truly European.
You have embarked on this journey with the objective to complete a process of reforms to make your economy resilient and prosperous, your democracy and rule of law stronger, your society fairer, your country environmenatly more sustainable. And to give your contribution to make Europe stronger and safer.
We understand that the process can prove hard, and sometimes painful.
We understand that lasting reconciliation in this region is difficult, but – as the founding fathers of the EU proved – it is possible.
We know that changes are always difficult, but the choice you have made make them worth the sacrifice.
This is a once in a generation transformative process for a better future that concerns everyone, a process where unity of all political, economic and societal forces, with respect for their different roles of course, is essential to succeed and to have the support of the people.
Serbia is not alone in this. We are here to help and to work together.
Serbia and the EU are closer than ever.
If we look at our economic relations we are by far Serbia's main trade partner and investor, supporting economic growth and job creation. We are your first donor to help you developing a safer, more democratic and more prosperous Country. We are the leading destination for Serbians who travel, study and work abroad. We are also here with you in case of need, as the flood and migration emergencies showed.
All of this is the focus of the "EU Za Tebe" campaign that we launch today to show in the every day life of Serbian people what the European Union is doing with Serbia for them.
My friends, Let me conclude saying that "Hope" and "Youth" are two important words of the European vocabulary.
This is why we have chosen the "Music of Hope orchestra" with talented young Serbian artists who will play for us tonight, together with some globally acclaimed older brothers, like Bajaga I Instruktori.
Thank you for attending and celebrating with us.
Živela Evropa, Živela Srbija!