Head of the EU Delegation to Serbia Sem Fabrizi presented awards to the winners of the Europa Diary contest. The contest was aimed at high school pupils from across Serbia who were asked to put their innovative and creative pieces in the context of the EU and its values.
The event at the EU Info Centre was attended by awarded pupils and their teachers/mentors, all of whom will be taking a week trip to Budapest, Prague and Vienna from 10-17 May.
"This is a very happy day for us and we are glad we can share this highly important day for Europe with you. On 9 May 1950 – long before your and my time – the then Foreign Minister of France Robert Schuman wrote his famous declaration aimed at ending all conflicts between two historical enemies – France and Germany. Only five years after World War II had ended, he proposed to turn coal and steel – one of the main resources of war – into the backbone of their future cooperation. In 1957, the European Economic Community was born – building on the idea of the European Coal and Steel Community – based on the concepts of pragmatism, progress and, most importantly, on the concept of de facto solidarity. Six founding members have over time grown to 28 EU Member States and nearly half a billion people. As we all know, Serbia is currently undergoing the accession process and we are hoping it will become part of that community. The EU is the second largest global economy; it has a large market, plays an important investment and donor role, and is a significant player in the field of global security. We are happy to spend this day with you, pupils and teachers from across Serbia," Ambassador Fabrizi said.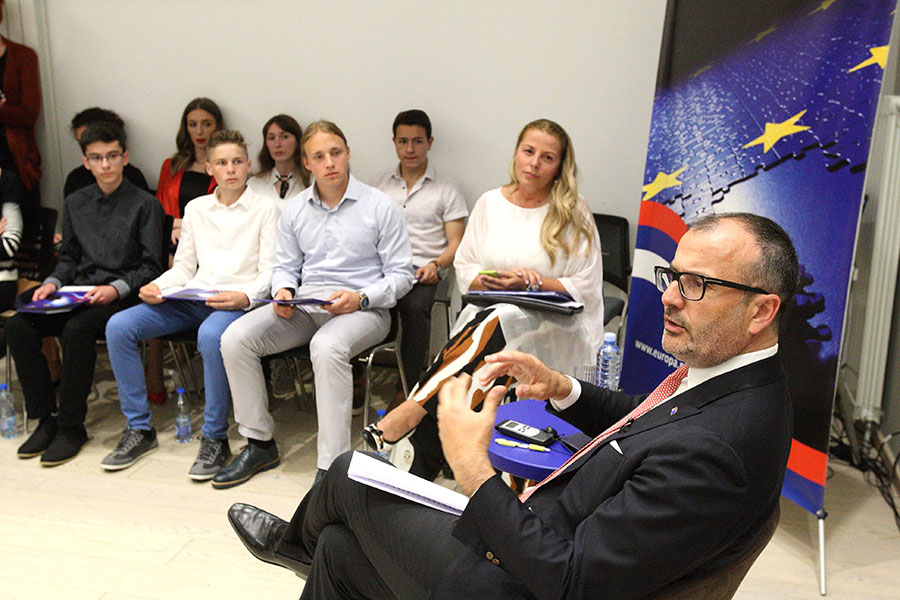 The contest launched within Europa Diary – implemented as part of the EU Delegation to Serbia's project Experience the EU – awarded 20 submissions from 48 pupils hailing from Novi Sad, Nis, Stara Pazova, Leskovac, Golubac, Kragujevac, Ub, Vranje, Bor, Jagodina, Pozarevac, Zajecar, Sombor,  Zrenjanin, Cacak, Sremski Karlovci and Kraljevo.
Active citizenship, healthy life, violence prevention, smart learning, sustainable economy and numerous other EU-related issues were among the topics tackled by pupils. The principal topic of the contest, however, was titled Where the Past Meets the Future: European Year of Cultural Heritage 2018, as the idea was that pupils make their own contribution to the celebration of the European Year of Cultural Heritage. In total, 369 submissions have been received. For the winners list, click here.
Project Coordinator Milica Skiljevic of Belgrade Open School said that the goal of the contest was to raise awareness of the EU accession process among the youth and bring them closer to EU values.
"If we look at diverse interests and features of each social group, I think we can agree that not all information is equally important for everyone. We have therefore drawn up this project to suit your interests, to discuss the topics that concern you, such as employment, education, volunteering, leisure time, etc.," she said.
Following the award ceremony, the high school pupils had a Q&A session with Ambassador Fabrizi, asking him questions about Serbia's EU accession process, ecology, youth mobility, etc., before they joined EU Delegation's Head of Information, Communication and Press Paul-Henri Presset who accompanied them to the public event, held in the Republic Square, organised by the European Movement in Serbia on the occasion of Europe Day.