A set of 10.000 FFP2 masks arrived this morning at the fire brigade in Mije Kovacevica street in Belgrade, coming by truck from the European Union RescEU stockpile of emergency medical equipment hosted in Romania.
The masks were received by the Sector for Emergency Management of the Ministry of Interior, for further distribution. This donation from the European Union responds to the request for protective masks made by Serbia to the European Union Civil Protection Mechanism (EUCPM).
Ambassador Sem Fabrizi welcomed the shipment saying: "This is another expression of our concrete and continuous support in difficult times, through one of the many EU solidarity mechanisms of which Serbia is now part.. Since March 2020, we have donated ventilators, respirators, tests, protective equipment, and triage containers. to help Serbia to save lives and overcome the health crisis, and we are ready to work with all relevant authorities as long as it will be necessary. We have also offered a financial package to support the economic recovery in Serbia. The EU is with Serbia in this difficult moment and we will get through it together: this is the TeamEurope approach. The EU continues to be the largest donor, investor and trade partner for Serbia. And this has an impact on the everyday lives of people in Serbia."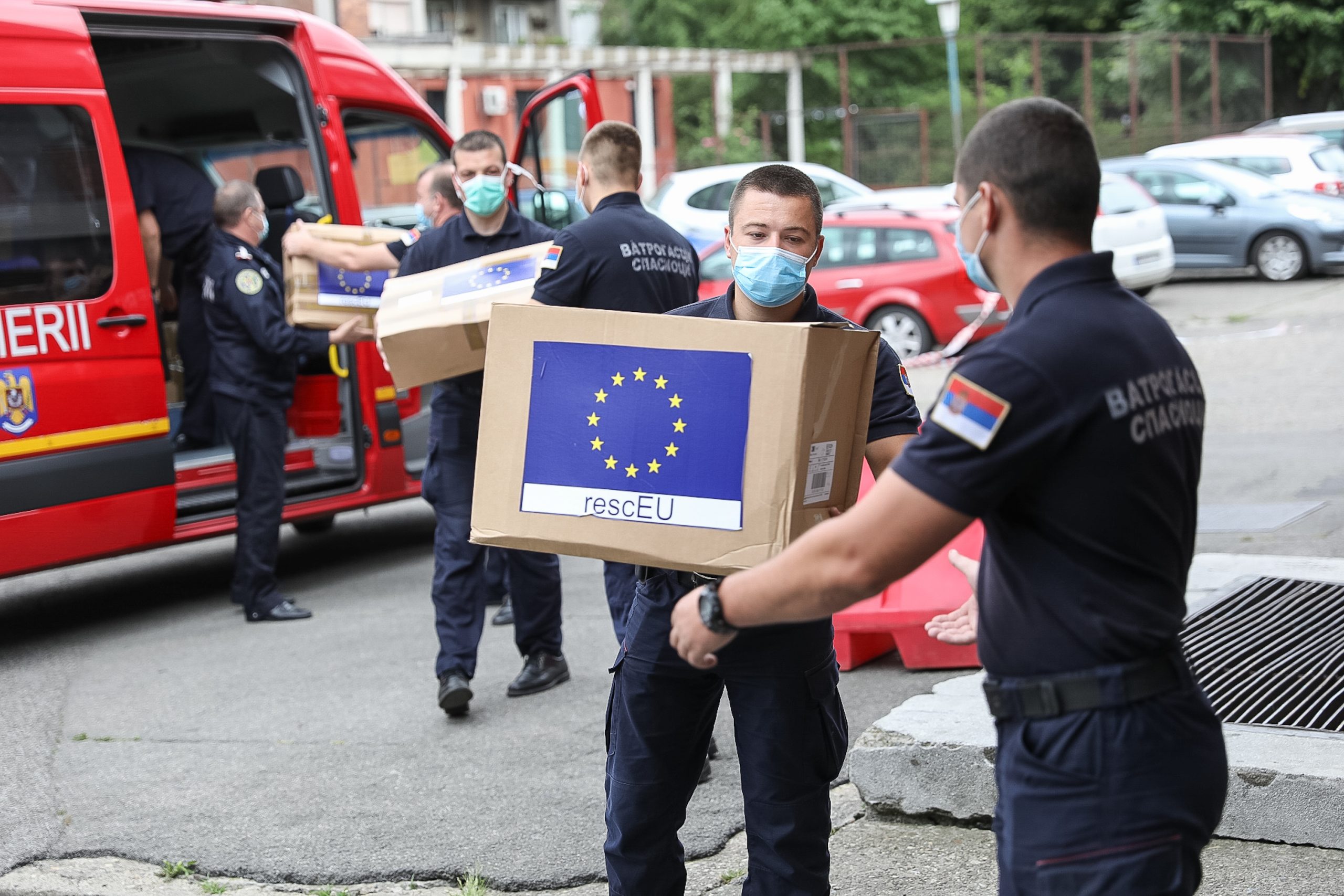 This shipment is part of an overall delivery of 65.000 masks from RescEU to Serbia, Croatia, Montenegro and North Macedonia and Serbia.
"While we observe positive evolutions of lower infection rates in some areas, more work needs to be done to prevent a further spread of the coronavirus – and protective masks are essential in this fight. Today, we are sending altogether 65.000 additional protective masks to Croatia and our neighbours in the Western Balkans on top of previous deliveries. I thank Romania for hosting and transporting the RescEU equipment to those in need" said European Commissioner for Crisis Management, Janez Lenarčič.
What is RescEU?
In 2019, the EU reinforced and strengthened components of its disaster risk management by upgrading the EU Civil Protection Mechanism. The latest element introduced – rescEU – has the objective of enhancing both the protection of citizens from disasters and the management of emerging risks. In addition, rescEU establishes a new European reserve of resources (the 'rescEU reserve') which includes a fleet of firefighting planes and helicopters, medical evacuation planes, as well as a stockpile of medical equipment and field hospitals that can respond to health emergencies, and chemical, biological, radiological, and nuclear incidents.
Background material on RescEU here:
https://ec.europa.eu/echo/what/civil-protection/resceu_en
http://europa.rs/commission-creates-resceu-stockpile-of-medical-equipment-serbia-eligable/?lang=en   
What is the Civil Protection Mechanism?
The EU Civil Protection Mechanism facilitates cooperation in emergency response, preparation and prevention between Member States, as well as several other European countries. Serbia became a member of the Mechanism in 2015, but even before that, during the devastating floods in May 2014, Serbia felt the benefits of European solidarity through the EU Civil Protection Mechanism. That operation was one of the largest since the mechanism was established.
For more information on the EU Civil Protection Mechanism, visit this presentation.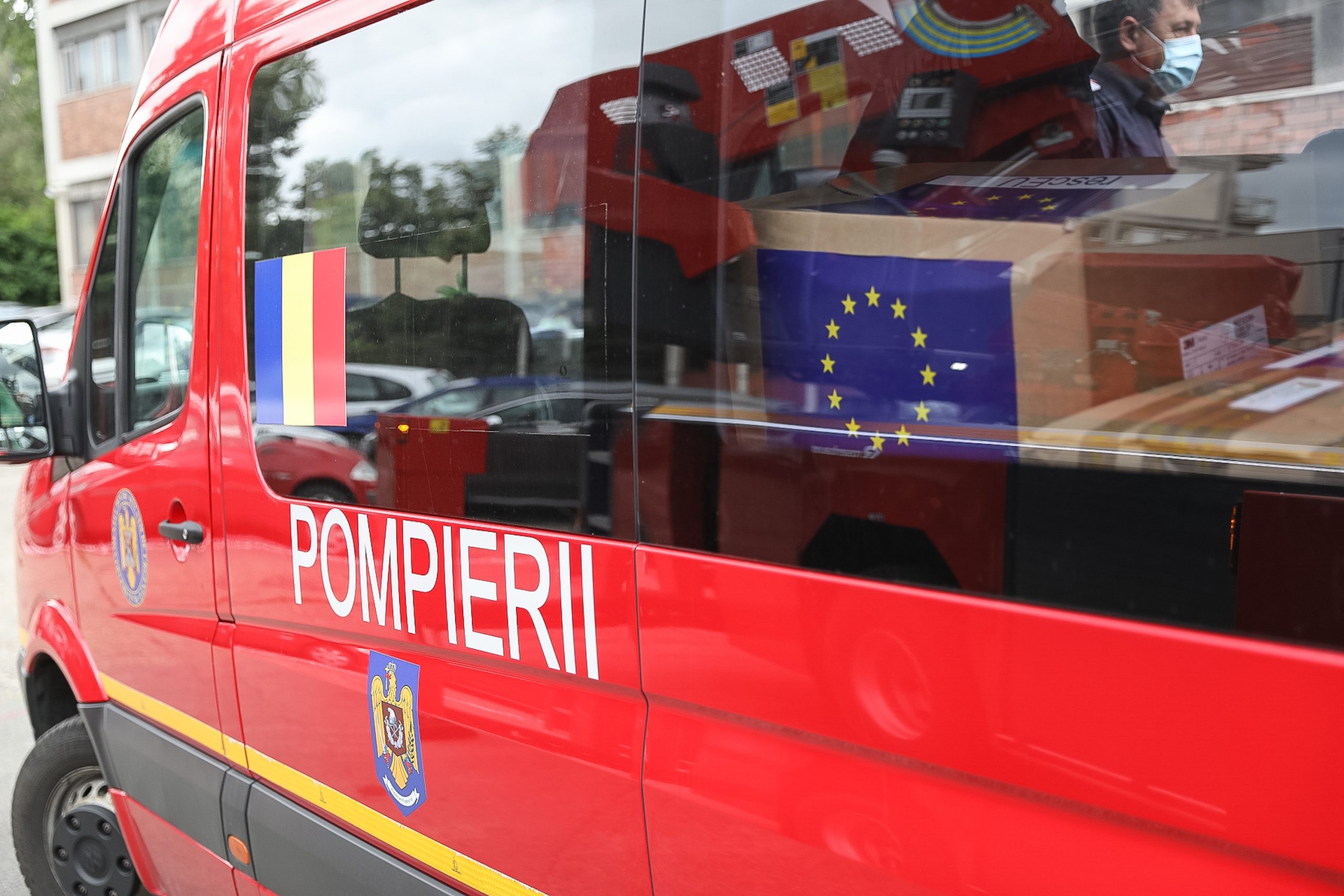 Background on EU assistance to Serbia against COVID-19
With regard to Covid 19 the EU quickly made available 93 million Euros in March 2020:15 million Euros were allocated for immediate response, while 78 Million euros are allocated to medium term economic recovery.
Since March 2020 the EU organised 15 cargo planes which landed on Nikola Tesla airport. These planes carried over 721 tonnes of equipment acquired by Serbia to fight COVID-19, while the EU covered the transport costs in the amount of 7.1 million EUR for the altogether 15 cargo flights. The first flight landed on 26 March and the last on 3 May.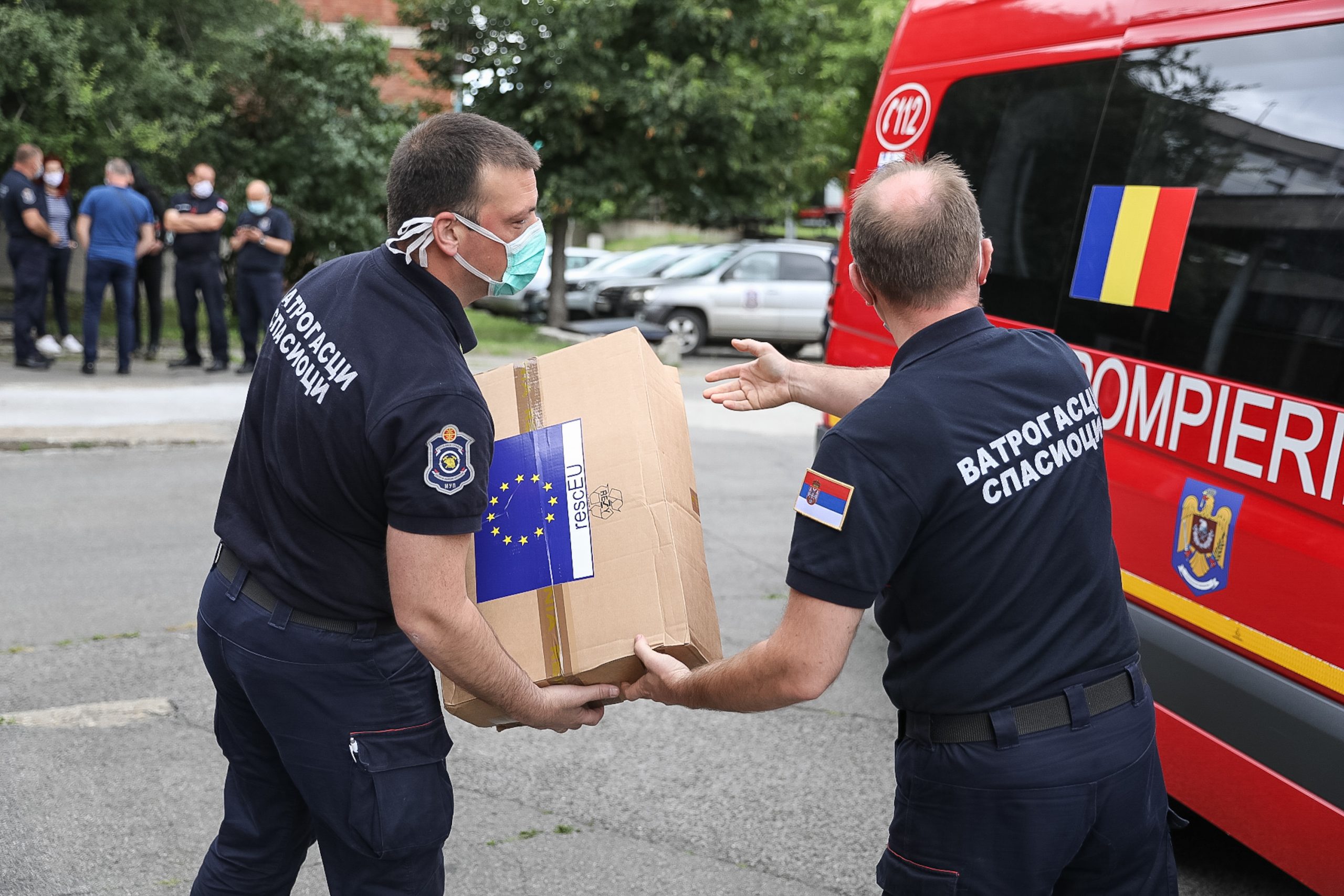 In addition to the transport cost the EU invested an additional 4.9 million into the purchase of medical goods for Serbia such as:
Protective Medical Face Masks (standard type) (800,000), intended for personal respiratory protection of medical personnel in health institutions, were delivered on 18 April 2020.
Infra-red thermometers (300) are non-contact handheld cutaneous devices for fever screening during the COVID-19 global emergency. The full contingent was delivered on 17 April 2020.
Stationary oxygen concentrators (100) improve access to oxygen therapy thus reducing COVID-19 mortality associated with hypoxemia. The full contingent was delivered on 23 April 2020 and was further allocated to health institutions across the country according to needs assessed by the Ministry of Health and the World Health Organisation.
Containers with furniture for triage and emergency care (100) allow the triage of patients while preventing the access of potentially infected persons to health care facilities. Medical equipment for containers is also provided and consists of a bed for examination, a table with two chairs, a contactless thermometer, smaller containers for medical and infectious waste, and a waste bin.
A real-time polymerase chain reaction i.e. Real-Time PCR machines (2) and reagents for 2019-nCoV tests (25.000) allow immediate COVID – 19 diagnoses after the test administration. Goods were delivered to Batut and Torlak institutes in Belgrade.
Intensive care monitors (ICMs) (50) to supplement the existing equipment in the Intensive Care Units (ICU) to meet the increasing number of patients caused by the onset of COVID – 19 who are in need of acute and intensive care. All devices were further allocated to health institutions across the country according to needs assessed by the Government of Serbia.
Devices for monitoring, ventilation, and anaesthesia (DMVA) (25) for short-term or long-term ventilation support with anaesthetic care of patients suffering from acute respiratory obstruction thus necessary in critical care management of COVID-19. They have been or will be allocated to health institutions in Serbia according to needs assessed by the Ministry of Health and the World Health Organisation.
Devices for artificial ventilation (respirators) (50) are intended for ventilation support of patients suffering from acute respiratory obstruction, thus necessary in critical care management of COVID-19. All fifty (50) ventilators were further allocated to health institutions in the country according to needs assessed by the Ministry of Health and the World Health Organisation.
The EU also invested aid for the most vulnerable groups during the Covid crisis, in particular the Roma community:
100.000 EUR in hygiene and essential foods packages for Roma settlements in 4 towns in Serbia (Belgrade, Nis, Subotica, Valjevo)
Women and elderly in remote areas:
100.000 EUR in hygiene packages to help such vulnerable people in 50 municipalities
Support for transit centres for migrants:
600.000 EUR for blankets, tents, mattresses, pillows, linen, bedsheets, gas heaters, folding tables, etc.
Serbian scientists are now able to test more samples on COVID-19 thanks to a system of referenced laboratories equipped by the European Union. National Reference Laboratory in Batajnica in the past had previously received 7.5 million EUR of EU donations to renovate the complex, equip it with high tech machines and robots, and to provide technical assistance. This laboratory did about 85.000 COVID-19 tests from the end of March until the end of June.
Over the past two decades the EU has equipped hospitals, laboratories, institutes of public health and blood transfusion centres and provided 252 emergency medical vehicles for health centres around Serbia, of which 122 have been delivered with ventilators, which is crucial to fight COVID-19.
More globally, the EU supported Serbia's whole healthcare network: through the European Investment Bank – the EU Bank – funds in the amount of 250 million euros were used for the reconstruction and construction of 20 large hospitals across Serbia, including the Torlak Institute, which is crucial in the fight against the virus Corona.
Only in 2019, the construction of a new building and the renovation and expansion of Clinical Center in Niš has been completed. That includes work on existing facilities, new blocks, courtyards and parking spaces. A total of 45,000m2 were reconstructed, and this significant regional health centre received 600 hospital beds, of which 38 were for intensive care and 42 for semi-intensive care. The EIB financed the construction of 34 million euros, while the budget of the Republic of Serbia allocated 16 million euros for the procurement of equipment. Thanks to the assistance of the EU, millions of Serbian citizens have better and more modern medical care, in other cities, too.
The EU made possible the use of new modern surgical operating rooms, emergency centres, a large number of hospital beds, new ambulances and hospital kitchen and hygiene equipment purchased for centres in Kikinda, Pancevo, Sombor, Smederevo, Sremska Mitrovica, Zajecar, Cacak, Krusevac, Pirot and Belgrade.
All information on EU support to Serbia against COVID-19 can be found here: www.euzatebe.rs/covid
For more photos and videos with concrete examples of support of the EU in the health sector click here:
http://europa.rs/eu-partnerstvo-sa-srbijom-eu-najbolji-partner-i-najveci-donator-vec-20-godina-i-na-prvoj-liniji-fronta-u-borbi-protiv-covid-19/
http://europa.rs/pirot-dobio-kontejner-za-testiranje-na-covid-19-finansiran-od-eu/