Imagine getting into kindergarten? When you get into kindergarten, how do you feel? What do you see? What do kids do? Does the whole environment of kindergarten allow children to meet their needs and freedom of movement, comfortable feeling, fun, enough exploration and learning?
These were some of the issues discussed during the two two-day workshops for mentors from 50 preschool institutions involved in the SUPER (Support to preschool education system reform in Serbia) project with project experts.
Workshops were held for two groups of mentors (9-10 and 11-12 December 2019) in Belgrade. During the first day of the workshop, the participants were greeted by Irena Radinovic, Program Manager for the Education Sector of the EU Delegation to Serbia. She emphasized that the EU provides significant support to the education reform in Serbia as well as to the reform of preschool education.
Lidija Miskeljin, Team leader of the SUPER project and Prof Dr Dragana Breneselovic Pavlovic, Key expert in preschool education welcomed the attendees and emphasized the importance of the workshop for the future work of educators in all preschool institutions. The workshops were led by Prof Dr Zivka Krnjaja and Prof Dr Lidija Vujicic, project experts.
"The life we ​​live is marked as a century of institutional childhood, so issue of culture is necessarily linked to a rethinking of quality and the impact of quality on the institutional context of living. Culture is understood as a way and quality of life within an institution. A positive kindergarten culture represents a collaborative culture, a culture of shared responsibility, a culture of dialogue, mutual trust, participation, exploration of practice", emphasized Prof Dr Lidija Vujicic.
Kindergarten practitioners (nurses, educators, associates) are key actors in preschool education and potential drivers of change. Although other social and material circumstances may create difficulties and obstacles in development of the quality of preschool education, however, the activities of practitioners will largely determine what the practice of preschool education will looks like and whether that practice will change and develop.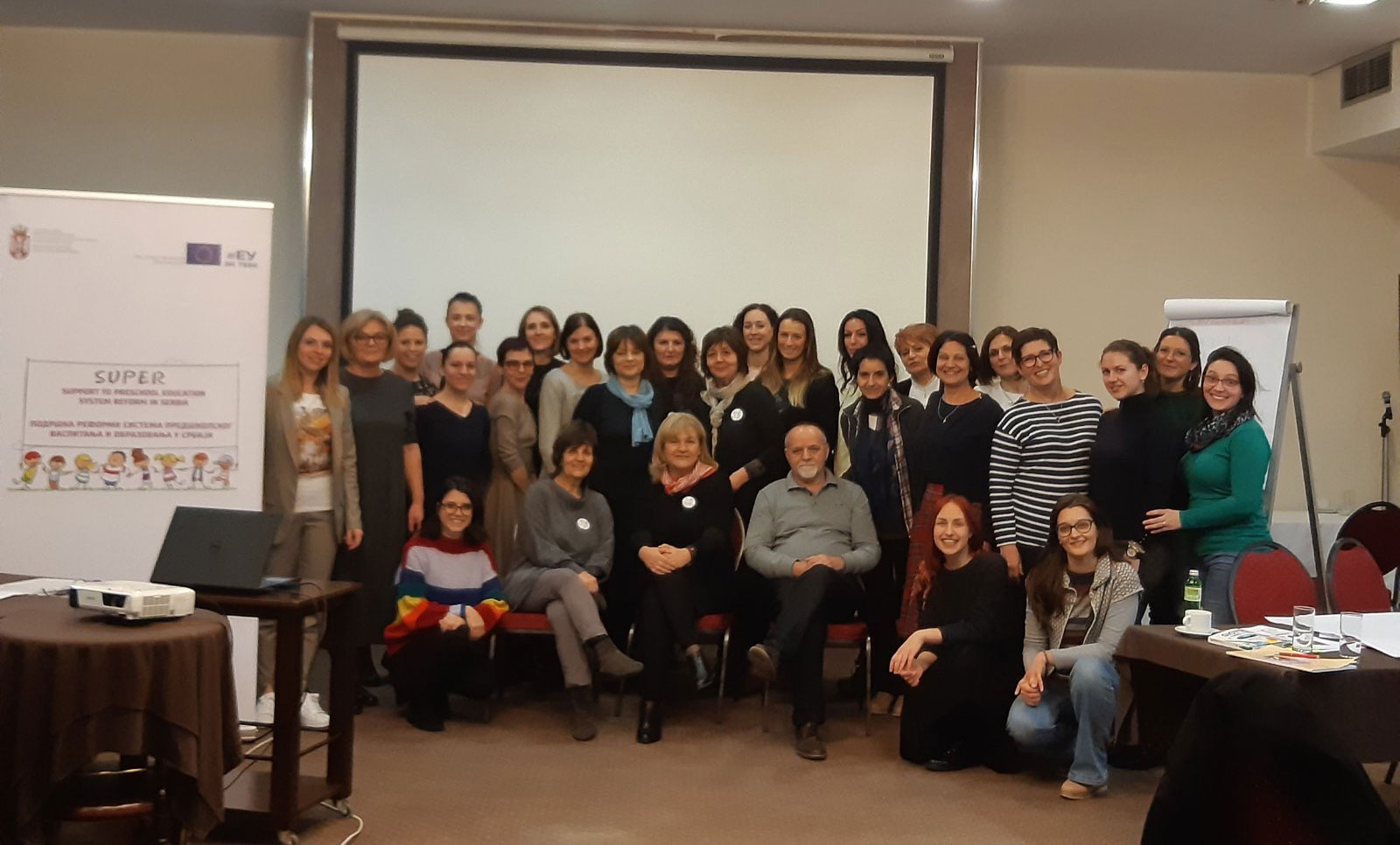 Rethinking of kindergarten culture is a process that can help practitioners, beginning with an understanding of current practice, to make decisions that will change the circumstances and develop the practice of preschool education.
During the workshops, special attention was paid to changes in the common space in the kindergarten in which all employees should participate.
"The experience of 'collective ownership' of change is built through potential of change in shared spaces with respect to space availability, developing community through play and exploring children of different ages and adults, to messages to family members and to educators," said Prof Dr Zivka Krnjaja.
In addition, developing an integrated approach to learning is presented to mentors who will share the lessons learned from the workshop with teachers in their institutions.
Such workshops can lead to change practice and contribute to the advancement of preschool education.
SUPER is one of the ongoing projects by which Тhe European Union, as the largest donor in Serbia, supports the modernisation of the education system and its harmonization with EU standards and practices. Since 2003, the EU has donated more than 100 million EUR for the education sector reform. This includes the improvement of preschool education, support for the reform of vocational and adult education, renovation and refurbishing of schools and faculties, support for inclusive education, etc.