The "Look around yourself" campaign continued with the EU Green Day in Uzice. Head of the Delegation of the European Union to Serbia, Ambassador Sem Fabrizi, Minister of European Integration Jadranka Joksimović and State Secretary in the Ministry of Environmental Protection Dragan Jeremić, were introduced with the activities of the projects in the area of environmental protection.
The guests, along with Užice Mayor Tihomir Petković, visited the landfill "Duboko", the first regional sanitary landfill in this part of the country.
"I'm very glad that the 'Look around yourself' campaign has spread outside Belgrade. For a special reason, we selected Užice. Among them is the fact that the first regional landfill of solid waste started working here in 2011, but also because this city has invested a lot in solving the environmental problems", says Ambassador Fabrizi and reminds that the landfill "Duboko" covers nine municipalities, as well as to receive 80 thousand tons of waste annually.
Its construction has created the conditions for reliable and safe disposal of municipal waste, solid waste management has been improved, the environment in the region has been significantly improved and health threats have been reduced or eliminated in many municipalities.
"This was an opportunity to ask Minister Joksimović, as well as Ambassador Fabrizi to continue to help us solve some of the environmental problems we are facing. Užice can boast that one of the cities that most often uses the European Union funds through numerous projects", says Mayor Petković.
Representatives of the EU Delegation to Serbia and the Government of the Republic of Serbia also visited the Women's Center of Užice, which deals with the recycling of textiles and operates as a social enterprise. This center represents an innovative model of waste textile processing and is created according to the principles of the circular economy, but also with the social component, employment of women from sensitive categories.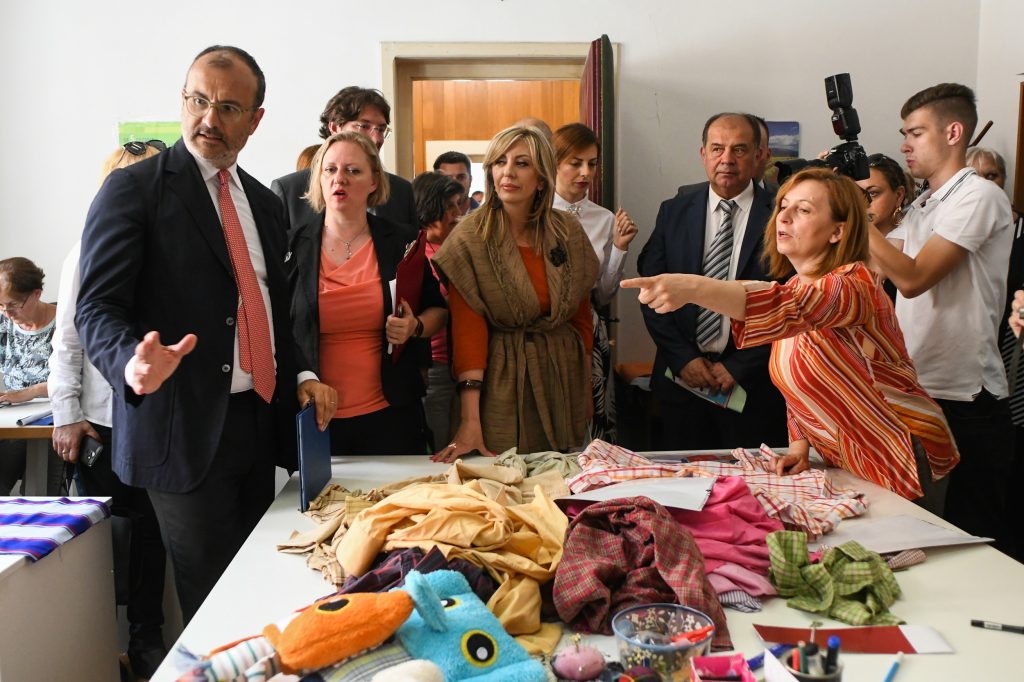 "This is a truly significant and socially responsible story and a project that is financed through EU funds and cross-border projects. The Užice Women's Center is a combination of sustainable and responsible business, and that is the part of our population that is hard-to-employ, and these are primarily women. Here are the employees and women who were victims of domestic violence", said Minister Joksimović. At the same time, she announced that on Thursday, she will sign an agreement on new pre-accession funds worth 179 million euros.
The "Look around yourself" campaign will last until mid-July and represents the first environmental campaign that is jointly implemented by the Government of the Republic of Serbia and the European Union. It is implemented in cooperation with numerous organizations, institutions and cities, and throughout its duration will be organized a large number of events and projects aimed at raising the awareness of citizens about the importance of environmental protection.