Painter Aleksandar Zaharijev's exhibition and Bosilegradsko slavejce choir performance marked the completion of the first phase of reconstruction of Cultural Centre in Bosilegrad supported by the European Union and the Government of Switzerland with EUR49,500 through the European PROGRES development programme. The reconstruction included repair of the roof and damage caused by leaking, as well as the purchase of furniture and video equipment for the conference room.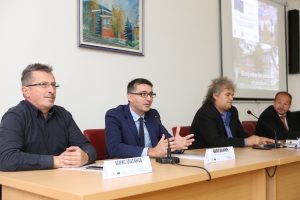 "Cultural Centre has for over five decades been the hub of all cultural events in Bosilegrad, a place where young people are brought together in art, drama, folklore and music sections. The fact that the Centre is also home to a cinema, Hristo Botev public library and the Centre for Social Work, emphasises the importance of renovation," said Vladimir Zaharijev, President of Bosilegrad Municipality. He added that the local self-government has contributed to the project with EUR6,750 and thanked the donors for their contribution to the fostering of culture and cultural diversity.
Marko Vujacic, European PROGRES National Programme Manager, said that the project created better working conditions at the Centre and opened new opportunities for further investment.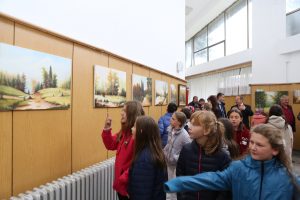 "I am happy to know that young people in Bosilegrad can now enjoy even better conditions to cultivate their talents. Also, I am glad that the project will contribute to efforts the municipality is making to foster the cultural tradition of this area and promote multiculturalism," Marko Vujacic said, expressing gratitude for programme donors' continuous support for the International Folklore Festival Bosilegradsko Kraište peva i igra and thus their contribution to cultural development of the municipality.
Vujacic also said that the project was one of 19 local infrastructure projects supported by the EU and Swiss Government that would change the lives of people in 19 municipalities in Southeast and Southwest of the country for the better. The project, worth over EUR2.3 million in total, will contribute to social and economic development; creating better working conditions in schools, cultural and sports institutions; upgrading of water supply systems; and improving access to and quality of health and social services.
The European Union and the Government of Switzerland support activities of the European PROGRESS programme, which contributes to sustainable development of the South and Southwest Serbia, with a total of EUR24.46 million. Approved projects will be aimed at strengthening local administrations; creating an environment that fosters development of infrastructure and economy; and improving the implementation of social inclusion and employment policy. The programme is implemented by the United Nations Office for Project Service (UNOPS).
The municipalities included in the programme are as follows: Novi Pazar, Ivanjica, Nova Varos, Priboj, Prijepolje, Raska, Sjenica and Tutin in Southwest Serbia, as well as Prokuplje, Blace, Zitoradja, Kursumlija, Leskovac, Bojnik, Vlasotince, Lebane, Medvedja, Crna Trava, Vranje, Bosilegrad, Bujanovac, Vladicin Han, Presevo, Surdulica, Trgoviste, Brus, Aleksinac, Gadzin Han, Doljevac, Merosina, Svrljig, Babusnica, Bela Palanka and Knjazevac in Southeast Serbia.