The European Investment Bank (EIB) will partly finance the construction of the "Peace Highway" between Nis and Pristina. The agreement was today formally signed by Minister of Construction, Transport and Infrastructure Zorana Mihajlović, Miguel Morgado, Director of the EIB Sector for Italy, Malta, Slovenia, Croatia and the Western Balkans and Assistant Director of the Corridor of Serbia, Dušan Purić.
European Commissioner for Transport Violeta Bulc congratulated Serbia and all participants on the project. The signing of a highway financing agreement is a major step towards connecting the region, the commissioner said.
"Connecting means peace, hope and prosperity. It is important that we have enabled the countries of the region to connect and reap the benefits of that connection. We have high hopes for the region and will discuss further cooperation and transport connectivity in the next two days," says Commissioner Bulc.
Minister Mihajlović points out that the preparation of this project took three years and adds that the Serbian government is committed to connecting and cooperation with the region.
"This project is important not only for the economic development of Serbia and for connecting citizens in several districts, but also politically, for the sake of stability in the region, because it shows our country's desire to develop, but also to reach a compromise and cooperation. Strategically, this highway will allow us access to the sea and ports", the minister said.
Miguel Morgado said the EIB will continue to support Serbia in order to enhance ties within the country, the region and with the EU.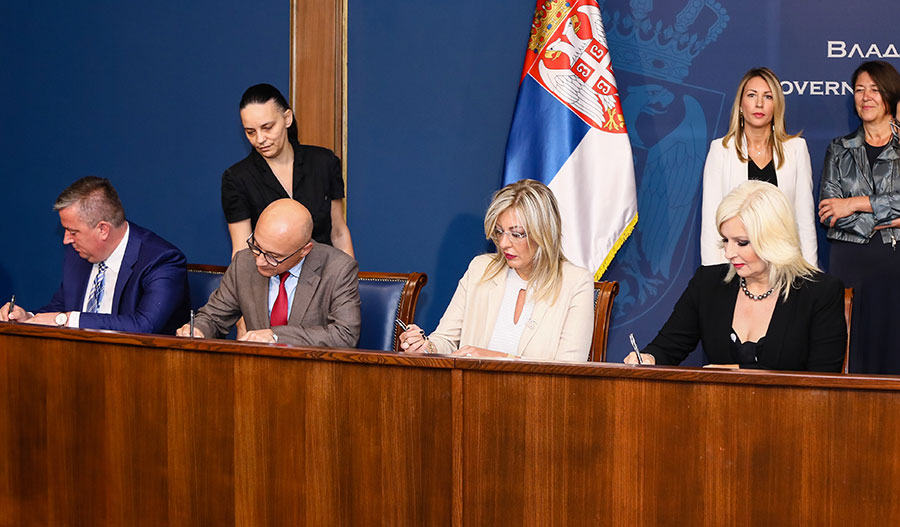 European Integration Minister Jadranka Joksimović points out that this is an important day for Serbia and will lead to an improvement in the quality of life of citizens. In practice, we are showing that we are an active part of the trans-European network, which will lead to more economic growth, jobs and better connectivity, the minister said.
Of the total, EUR 100 million is in the form of loans, while EUR 48 million is an investment grant from WBIF. Work on the first section from Niš to Pločnik is expected to begin at the end of next year.
Commissioner Bulc is on a two-day visit to Serbia, during which she will attend the opening of the Permanent Secretariat of the Transport Community in Belgrade, the first EU institution based in Serbia.