Ahead of the 15th edition of Belgrade Dance Festival, one of the leading European classic ballet teachers, ballet master Emiliano Piccoli from Italy, will run a master course from 25-29 January 2018. The EU Delegation to Serbia will support the master course for the third consecutive year with a view to promoting development and education of young dancers in Serbia. The course is intended for students of professional ballet schools in Serbia of different ages as well as young dancers.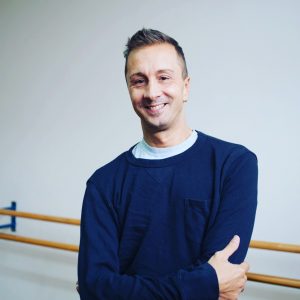 Emiliano Piccoli is a graduate of the Rome Scuola del Teatro dell'Opera directed by Elisabetta Terabust. He has worked with numerous famous ballet teachers, including Derek Dean, Victor Litvinov and Massimo Moricone. As a student, he gave remarkable performances in Bournonville's Napoli, Massine's Zorba the Greek, Pistoni's La Strada, Prebil's Don Quixiotte and the Nutcracker as well as in Mario Bigonzetti and Derek Dean's choreographs. Piccoli played his first role as a professional at the Nice Opera House in choreographs by Frederick Ashton, John Cranko and Leonide Massine. His professional career continued at the Bordeaux Ballet de l'Opéra National with which he toured extensively in Asia. He then joined the Aterballetto dance company from Regio Emilia where he performed in productions by Maurice Béjart and Fabrizio Monteverde. Also, he freqeuently performed in Arena in Verona. He then joined the Ballet du Capitol in Toulouse, France, where he performed not only in all of its classic productions, but also in productions by Jiří Kylián, Uwe Scholz, Peter Martins, George Balanchine, Hans van Manen, etc. In 2004, he received a French state diploma and started teaching at the Toulouse Conservatory and other European schools. Also, he taught movement analysis in various elementary schools, working with children aged 5-10. In 2011, he served as a ballet master for Amedeo Amodio productions. The same year he began working with the Rome Ballet Academy and was named Director of the Ballet Department at the D.A.F. Centre, taking an active part in professional training courses. Emiliano Piccoli is a frequent jury member at numerous ballet contests in Italy and abroad. Many of his students became members of the Teatro dell'Opera in Rome and Teatro di San Carlo in Naples or students of the most prestigious schools.
Maestro Piccoli will be holding three classes in classical ballet and repertoire a day while in Belgrade, with a goal of bringing children and young dancers closer to new classical ballet teaching tools and the latest trends in the European ballet school and contemporary dance scene.
For the sixth consecutive year, the EU Delegation to Serbia throws its support to the Belgrade Dance Festival which aims to promote both artist and teacher exchange between Serbia and the EU and education of young talented dancers in Serbia, thus fostering European values such as multiculturalism, diversity and solidarity between nations and generations.
More information on the master course:
The master course runs from 25-29 January 2018 at the premises of the Ballet School of the National Dance Foundation in Belgrade, 3 Kolarceva St., floors 1 and 2. The master course will be divided into three age groups: beginners (ages 9-12), intermediates (13-15) and advanced-professional level (16-25). Some 60 attendants are expected to sign up for the master course. Also, the course is open to all classical ballet and modern dance teachers in Serbia.
Professional ballet school students, young dancers and ballet teachers are invited to sign up for the master course via telephone: 060 35 00 505.