In March 2016, the Serbian government adopted the Action Plan for the implementation of Chapter 23: Judiciary and Fundamental Rights and thereafter in July 2016 accession negotiations on that chapter commenced.
EU accession negotiations in the area of the judiciary and fundamental rights  require a solid and functioning judicial and related public service system to ensure effective freedom, security and justice for the people of Serbia. A solid legal framework and reliable institutions are required to underpin the wide range of policies in the Chapter 23.
The conference, held today in Belgrade, marked the commencment of the EU-funded  "EU for Justice – Support for Chapter 23" project.  The European Union committed nearly 2 million euro for the implementation of the 2-year project. The purpose of the project is to strengthen the capacities of the Ministry of Justice, the leading institution in the sector, to fulfil its role in the judicial reform process and coordination of implementation of the measures of the Action Plan for Chapter 23.  The Ministry of Justice is in charge of coordinating and streamlining the inputs of more than 60 different institutions involved in the implementation of the Action Plan for Chapter 23.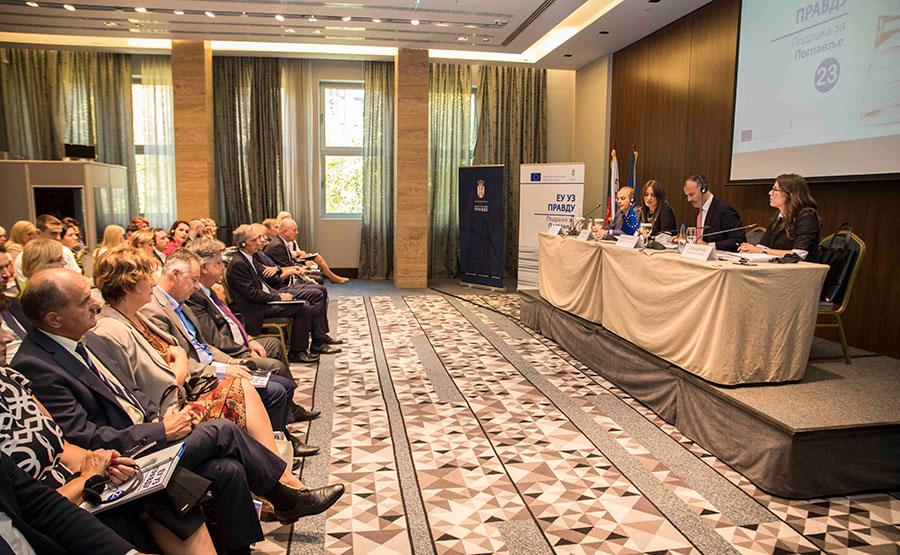 During the conference' opening session, the participants were addressed by Ms. Nela Kuburović, Minister of Justice, Government of the Republic of Serbia, HE Mr. Sem Fabrizi, Ambassador and Head of Delegation of the European Union to the Republic of Serbia, and Mr. Panagiotis Giannakopoulos, Team Leader of the EU for Justice – Support for Chapter 23 project.
The high-level guests and broad audience reflected the commitment to the undertaken reforms within the Chapter 23.
Talking about the importance of the Chapter 23, ambassador Fabrizi said that Chapter 23 goes to the core of the democratic values of the European Union. It is about how citizens are treated, their day to day rights, safety and protection, stressed the ambassador.
The European Union is the largest donor to Serbia having provided more than €3 billion in assistance.