Thursday, 25 January, saw two separate debates being held within the project EUteka – the EU at your library – in public libraries in Lebane and Prokuplje, both members of the EUteka network. The debates discussed the European Union, EU youth programmes and a prize contest launched within the project Europa Diary.
The first debate, hosted by Public Library Rade Drainac in Prokuplje, featured Marjan Cvetkovic, a Team Europe member. He spoke to high school pupils about the birth of the European Union and its institutions and Serbia's EU accession process and programmes it aims at young people.
Milica Skiljevic of the project "Experience the EU" introduced them to Europa Diary publication which helps youngsters to discover the EU in a compelling way. The youth from Prokuplje learned more about the on-going Europa Diary contest that awards best submissions in six categories (drawings/paintings, literary essays, journalism pieces, photography, video artworks and multimedia works). Young people from across Serbia are eligible to submit their creations by 10 March. Authors of best pieces will be awarded with a trip to the EU.
Library Director Dragan Ognjanovic addressed the audience at the start of the debate moderated by Aleksandar Djukic, EUteka project coordinator.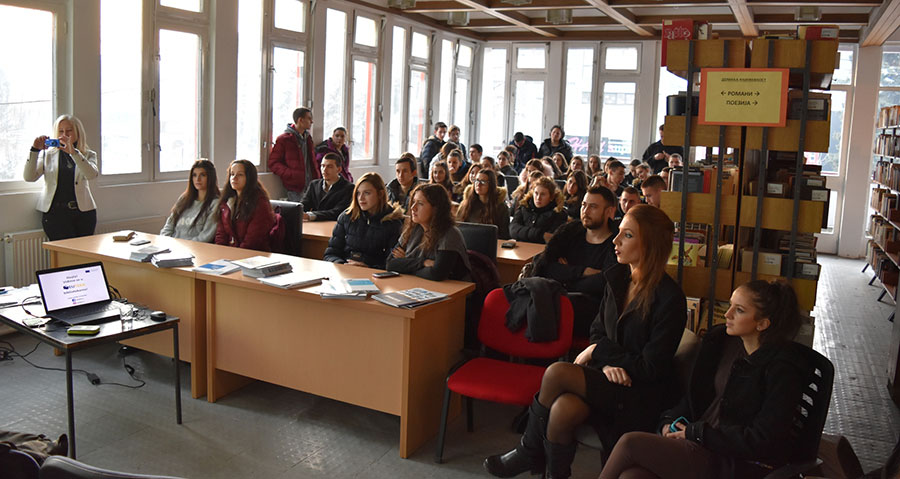 High school pupils from the Lebane High School and Secondary Technical School Vozd Karadjordje took part in another EUteka debate, held the same day in Lebane. The debate was hosted by the Director of Branko Radicevic Public Library who greeted them at the beginning of the debate, wishing them a fruitful discussion.
Once again, Marjan Cvetkovic tried to bring the youngsters closer to chosen topics through a compelling and enjoyable conversation. The pupils shared their views on the EU and the experience they had gained by taking part in various activities in their municipality. Europa Diary contest, presented by Milica Skiljevic, also aroused great interest among them. The Lebane debate was also moderated by Aleksandar Djukic, member of the project EUteka – the EU at your library.