Through its EU PRO development programme, the European Union (EU) will support 22 new civil society organisations (CSO) projects aimed at fostering social cohesion in multi-ethnic municipalities from the two regions of Sumadija and Western Serbia and Southern and Eastern Serbia.
The projects for which the EU has allocated grants worth close to EUR400,000 should primarily contribute to enhancing the status and social inclusion of vulnerable groups, as well as to improving inter-ethnic relations and fostering cooperation among multi-ethnic communities.
"Strong civil sector is a precondition for effective citizen participation in the most important processes of social development. Through the EU PRO programme, we support the policy of the Government of the Republic of Serbia that envisages both a strong civil society on one hand, and balanced, sustainable local development on the other. We hope that the organisations that were awarded grants will further contribute to the quality of life of citizens in their local communities, improving the quality of dialogue, multiculturalism and empowering women entrepreneurship," said Jadranka Joksimovic, the Minister of European Integration of the Republic of Serbia.
"The European Union supports the civil sector as one of the drivers of positive change and through these projects, we will contribute to creation of a society dedicated to the well-being of all its members, a society that protects people against discrimination, fosters solidarity and diversity, and whose institutions enable protection of human rights for all citizens alike. This is what we mean when we say "EU for YOU", Head of the Delegation of the European Union to Serbia Ambassador Sem Fabrizi said.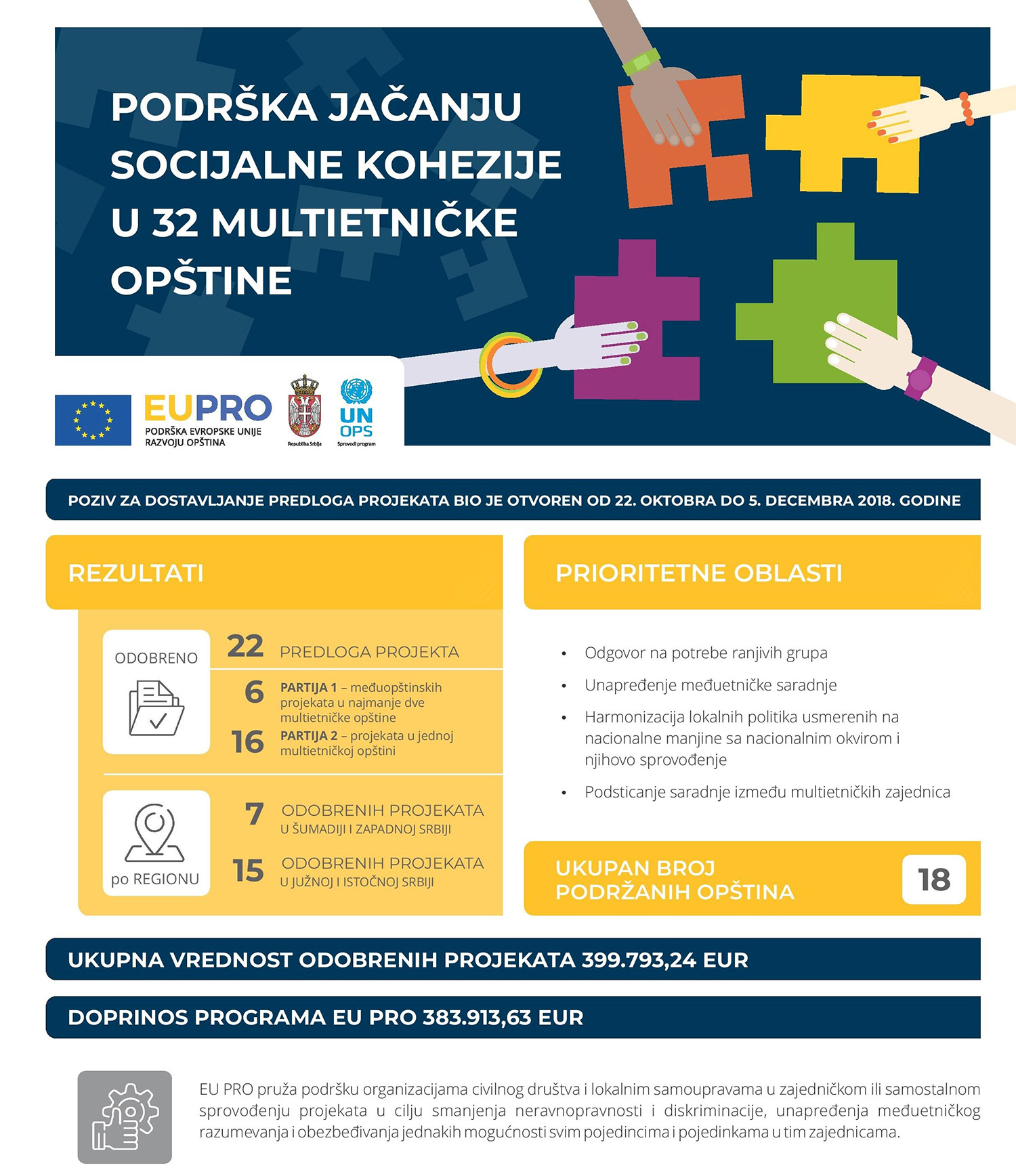 Through these projects, the civil society organisations will work towards economic empowerment of the vulnerable groups, primarily rural women, youth, and persons with disabilities, while the focus will be on the improvement of the status of Roma community by enhancing their access to education, health and social services. Moreover, the projects will address the promotion of the intercultural cooperation and cultural diversity, as well as the harmonisation of relevant local policies on national minorities with the national regulatory framework and their implementation.
The Public call was open from 22 October to 5 December 2018 for 32 local self-governments participating in the programme, which are, according to the Law on Local Self-Government, of mixed nationality. Out of 53 submitted applications, the best 22 projects that were awarded funding will be implemented in 18 municipalities participating in the programme.
The list of approved projects is available here.