The majority of citizens of Serbia are in favour of joining the European Union and see the EU as the largest donor, and trade and investment partner – an opinion poll suggested. According to a survey conducted by Ninamedia and commissioned by the EU Delegation to Serbia, 54% of respondents support process of EU accession of Serbia, while a third of respondents said they are opposed to it. Taking into account only the respondents who would vote in it, a referendum would lead to a 62% – 38% result in favour of EU accession. The largest population segment that is in favour of Serbia's EU membership is made up of two thirds of young people aged 18-29.
If a referendum was held today, how would you vote? (%)
Total sample.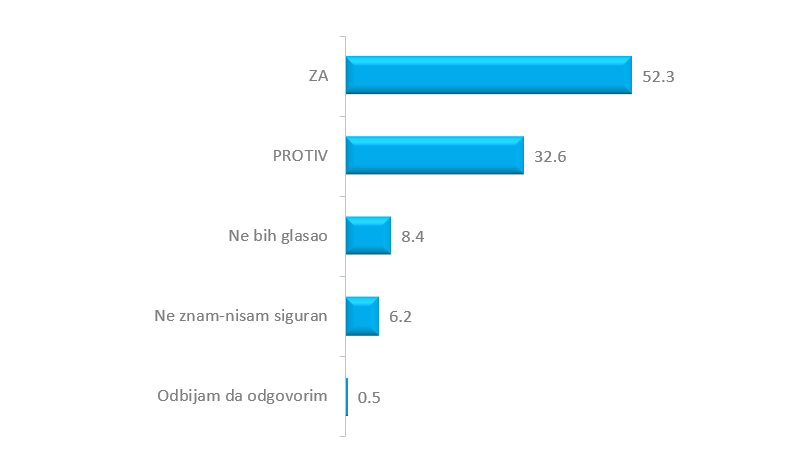 Citizens of Serbia predominantly see the EU in positive light and associate it with opportunities and progress, a higher economic standard, free travel, human right's observance, etc. The number of citizens who believe that Serbia benefits from the accession requirements is on a rise streak, just as the perception of Serbia as being a welcomed future member of the EU.
EU Ambassador to Serbia Sem Fabrizi described the results of the latest survey as encouraging.
"Most Serbian citizens are still supportive of EU accession and consider the EU as the largest donor, trade and investment partner, including during the pandemic. Additionally, more citizens believe in our strong commitment to welcoming Serbia as an EU member. This compels us to build stronger relations and work in all areas to speed up and reinforce the process of EU accession," Ambasador Fabrizi said.
Ninamedia research team pointed out: "After eight surveys we identified a stable majority that is in favour of Serbia's EU accession (54.3%). Serbian citizens recognise the EU as a key economic and political partner (when it comes to trade and investment – 42.7% of citizens cited the EU), while also over 50% of citizens believed that benefits of accession outweigh its shortcomings for them personally and Serbia as a whole benefit."
Over 40% of respondents are aware that the EU is by far the largest donor in Serbia compared to any other country or organisation. Furthermore, most Serbian citizens recognise the EU as the largest trade and investment partner of Serbia, leaving other countries (China, Russia, the US, etc.) far behind.
Who according to you is the largest donor in Serbia? (%)
Total sample. Open-ended questions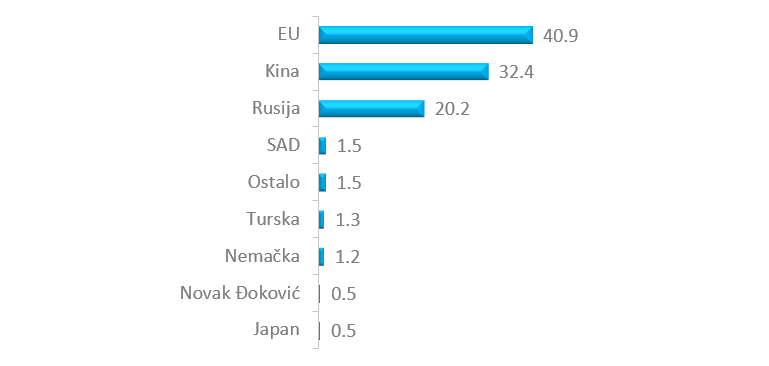 A total of 58% of respondents say they are supportive of the EU-facilitated Belgrade-Priština dialogue. At the same time, citizens believe that the process of normalisation is the most important requirement, followed by fight against organised crime and corruption.
Citizens said they would like to have more access to information about Serbia's EU accession process. 55% of them believe that the Serbian Government and the Ministry of European integration are primarily responsible for communicating the effects of Serbia's EU accession process.
The survey was conducted in June 2021 on a sample of 1,211 people from 40 towns and municipalities, using the CAPI approach (Computer-Assisted Personal Interviews).