Highest green economy investment so far: € 263 M of EU grants for seven projects in Serbia
The European Union launched recently a new energy support package for the Western Balkans of which in particular Serbia will benefit.
Ranging from support for vulnerable households and businesses to mitigate the hike in energy prices and businesses to a plan for a new power plant and a wind farm – the plans have a wide spectrum and   will partly materialise already soon in Serbia and the region.
Serbia and the EU have agreed a set of seven new projects on energy, environment and transport infrastructure. This constitutes overall the biggest investment of the EU in Serbia dedicated to a green economy. The Operation Board of the EU and its member states co-financed Western Balkan Investment Framework (WBIF) approved € 263 million of EU grants for seven projects in Serbia.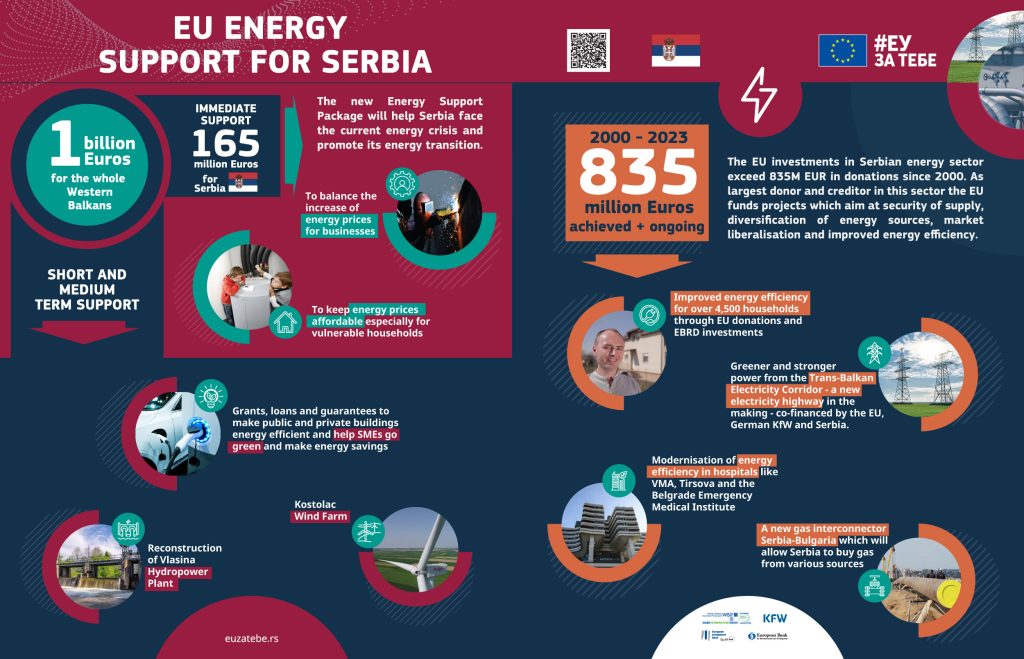 The approved EU grants complement loan funding from the European Investment Bank (EIB), the European Bank for Reconstruction and Development (EBRD) and the German Kreditanstalt für Wiederaufbau (KfW), as well as national contributions from Serbia. The funds are a continued donation of the European Union to support the Green Agenda for the Western Balkans and constitute elements of the Economic and Investment Plan of the EU.
These new projects will directly positively impact the quality of life across Serbia by improving connectivity, reducing unnecessary emissions and environmental degradation. With this € 263 M nonrefundable EU investment, substantial economic growth will be enabled by the creation of new business opportunities and jobs in local communities.
The donation to Serbia in the energy sector is a part of € 500 million funds for projects in the energy sector of WB countries announced at the recent EU-Western Balkans summit in Tirana. On 6 December 2022, the European Commission President Ursula von der Leyen presented the Energy Support Package for the Western Balkans, at the EU-Western Balkans Summit in Tirana.
It consists of €1 billion in EU grants to help the Western Balkans addressing the immediate consequences of the energy crisis and build resilience in the short to medium term. The first half of the package consists of €500 million in budget support to mitigate the economic and social impact on vulnerable households and SMEs and support the energy transition and security of the region. 90% of the funds will be disbursed already in January 2023, while the rest will follow later in 2023/early 2024 against the successful implementation of national action plans, tackling the energy crisis, by the six Western Balkan partners.
The second half of the package consists of another €500 million to advance in energy diversification, renewable energy generation and gas and electricity interconnections through the Western Balkans Investment Framework (WBIF).
Overall since the year 2000 the European Union has been funding projects in the energy sector worth 835 million Euros.