Overall, the European is by far the biggest investor, biggest trade partner and biggest donor to Serbia:
1) In the last 10 years EU cumulative Foreign Direct Investments in Serbia stood at EUR 15.4 billion or 67% of total FDIs inflow in that period.
2) EU-Serbia trade, accounts for 62% of Serbia's total trade
3) The EU is by far the biggest donor in the country with more than EUR 3 billion in non-refundable assistance in Serbia through various projects since 2001, and the trend is progressing: the EU donates currently approximatively EUR 300 million euros yearly to Serbia – money that Serbia will never have to give back. While the European Union is generally the biggest provider of assistance in the world, Serbia itself is actually in the top 3 countries which receive most financial assistance from the EU.
This budget is implemented in full transparency and can all be monitored on the European Union websites.
EU financial assistance is programmes and implemented jointly with Serbia. Along well-defined priorities, they decide where and how to put them, so as to make Serbia a more prosperous, sustainable, fair secure and democratic, and prepared to join the Union.  Key sectors of financial support are Education, Agriculture, local development, Research and Innovation, Environment, Transport, Energy, Public Administration, Justice and Rule of Law, but also Health.
20 years of EU assistance in the health sector in Serbia: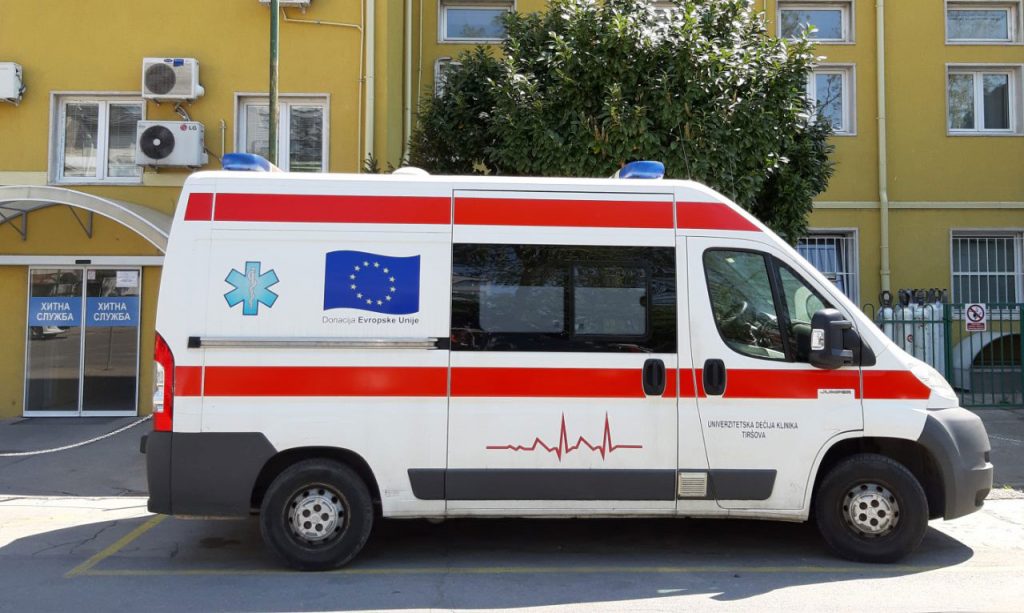 Only in the health sector, what the EU has done with Serbia in the last 20 years over the last few years is fundamental. The EU donated above 200 Million euros and loaned 250 million others to make the health system in Serbia stronger. This is the basis which is going to help Serbia overcome the COVID-19 virus.
The EU has equipped hospitals, laboratories, institutes of public health and blood transfusion centres and provided 252 emergency medical vehicles for health centres around Serbia, of which 122 have been delivered with ventilators, which is crucial to fight COVID-19. Only for that project, the EU donated 8.7 million euros.
More globally, the EU supported Serbia's whole healthcare network: through the European Investment Bank – the EU Bank – funds in the amount of 250 million euros were used for the reconstruction and construction of 20 large hospitals across Serbia, including the Torlak Institute, which is crucial in the fight against the virus Corona.
Only last year, the construction of a new building and the renovation and expansion of Clinical Center Niš has been completed. That includes work on existing facilities, new blocks, courtyards and parking spaces. A total of 45,000m2 were reconstructed, and this significant regional health centre received 600 hospital beds, of which 38 were for intensive care and 42 for semi-intensive care.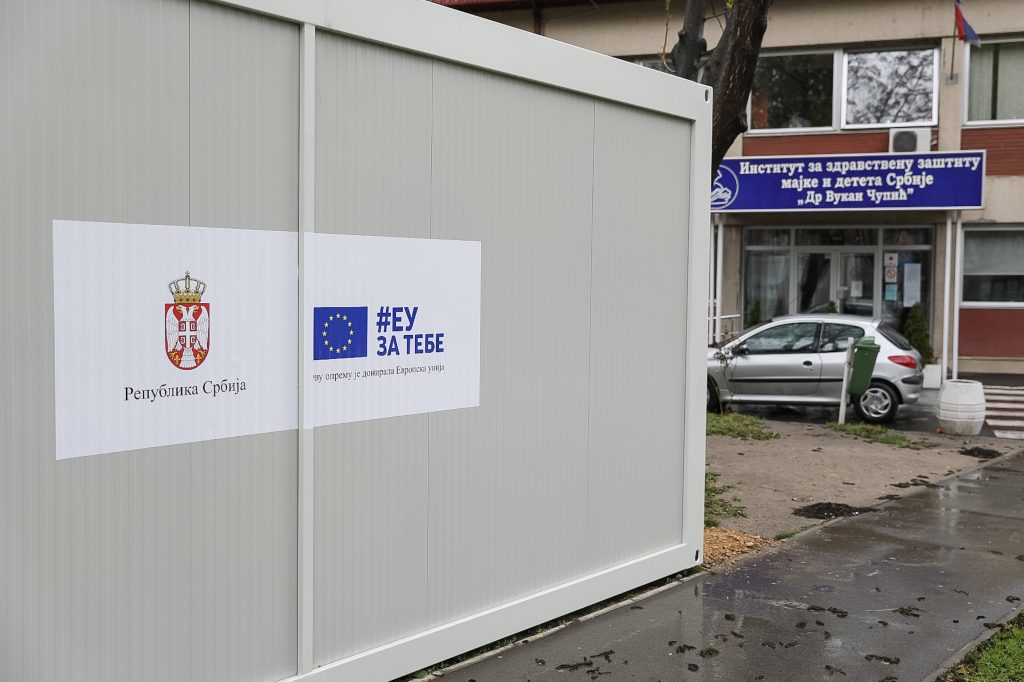 Today, 2.5 million Serbian citizens can receive the highest quality medical service in this facility, which also involves complex surgical procedures because it has 17 state-of-the-art operating rooms. The EIB financed the construction of 34 million euros, while the budget of the Republic of Serbia allocated 16 million euros for the procurement of equipment.
Thanks to the assistance of the EU, millions of Serbian citizens have better and more modern medical care, in other cities, too. The EU made possible the use of new modern surgical operating rooms, emergency centres, a large number of hospital beds, new ambulances and hospital kitchen and hygiene equipment purchased for centres in Kikinda, Pancevo, Sombor, Smederevo, Sremska Mitrovica, Zajecar, Cacak, Krusevac, Pirot and Belgrade.
Smaller communities also benefitted from EU assistance to develop their health systems, for example:
With donation of above 4.6 million Euros, medical centres in nine municipalities received equipment for better medical care and especially for the most sensitive groups- for women, children, people with mental or physical disabilities, etc.
The EU supports the construction of the Haemodialysis Centre in Lebane which will, aside from this municipality, benefit the population of Medveđa and Bojnik as well.
Support is being provided to the development of two main designs for the renovation of the Prijepolje Hospital and the Blace Health Centre, and medical equipment provided for the Health Centres in Aleksinac, Babušnica, Bela Palanka, Brus, Doljevac, Gadžin Han, Merošina, Svrljig and the Medical Centre of Knjaževac.
The city of Novi Pazar had got a new Emergency Center, for which EU donated 680.000 euros in 2018. More than 120.000 people in Novi Pazar, and much more in the area benefit from this investment.
Ivanjica also got a new X-ray machine that cost more than 66.000 euros. Improved technical resources of the institution enable high-quality and safe operation, and the patients are less exposed to radiation.
Only some of EU investments in Serbian health care include 2.8 million Euros for the finalisation of the Vranje Hospital construction.
The EU has helped to establish a National Cancer Screening Programme in the Republic of Serbia, with the donation of over 6.6 million euros so far.
Purchasing supplies of essential medicines and other medical supplies to public pharmacies and health institutions in Serbia should not be forgotten, considering EU donation over 43 million Euros.
The EU has provided much needed support to Serbian laboratories, with modern equipment and supplies in total value of 4.9 million Euros donation.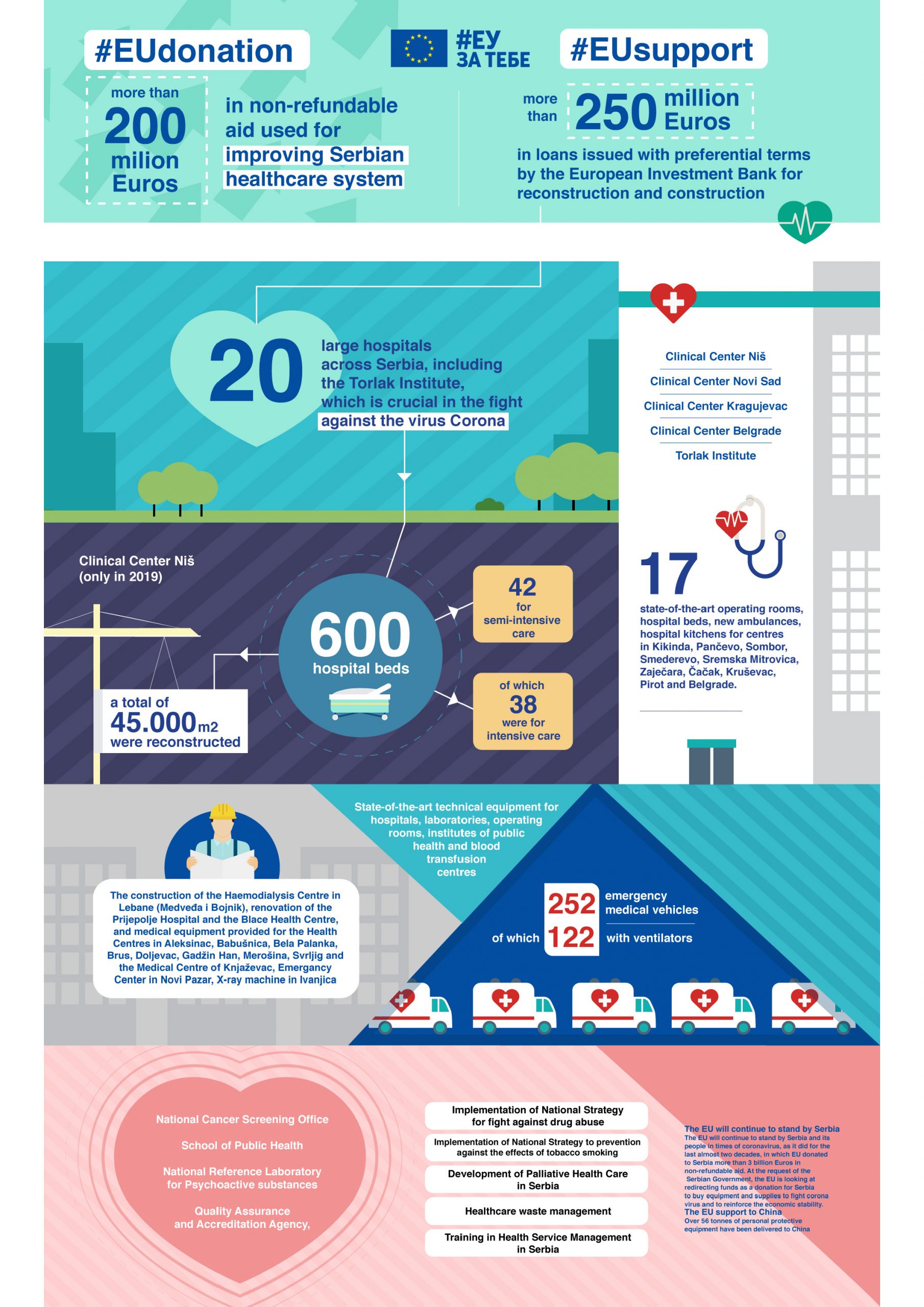 2. Emergency assistance from the EU to Serbia to fight COVID-19
In March 2020, the European Commission offered Serbia a 93m-euro package to fight COVID-19, and an additional 290m euros was offered to the Western Balkans.
Distribution of 93 million euros:
Emergency measures: 15 million euros
Transport of emergency medical equipment and materials that Serbia procures abroad:
(15 cargo flights have been financed so far, which delivered more than 700 tons of goods, both EU donations and equipment purchased by the Government of Serbia)
Total value of all flights: 7.12 million euros
Procurement of additional emergency medical equipment and materials (such as respirators, masks, gloves, etc.) intended for health personnel and the general population; as well as other urgent needs agreed with the Serbian Government for health and social care.
So far, the following supplies have arrived:
800.000 protective masks
100 containers for triage (all produced in Serbia)
Medical equipment for triage containers (bed for examination, a table with two chairs, contactless thermometer, smaller containers for medical and infectious waste and a waste bin)
300 infra-red contactless thermometers
100 oxygen concentrators
20 intensive care monitors
25 hi tech respirators
1 laboratory real-time PCR machine
Reagents for 14.500 tests
Expected to arrive in the coming days:
50 respirators
30 intensive care monitors
1 real-time PCR machine
Reagents for 10.500 tests for COVID-19
Support for vulnerable groups – Roma community:

100.000 EUR for Roma settlements in 4 towns in Serbia (Belgrade, Nis, Subotica, Valjevo)
Support for vulnerable groups – women and elderly in remote areas:

Women (100.000 EUR to help such vulnerable people in 50 municipalities)
Support for transit centres for migrants:

600.000 EUR for blankets, tents, mattresses, pillows, linen, bedsheets, gas heaters, folding tables, etc.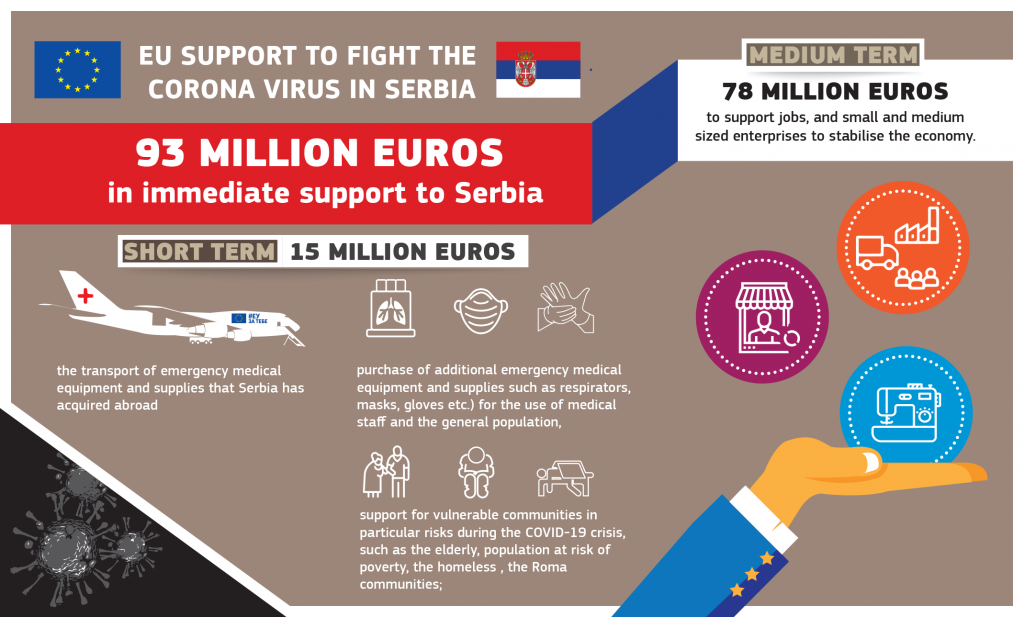 2. Short and medium term measures: 78 mil euro
III. EU Solidarity mechanisms also available for SerbiaWhen the COVID-19 crisis erupted in Europe, the EU has put in motion and set-up solidarity mechanisms for Europe to address the crisis together instead of individually. These mechanisms are also open for Serbia, and they include – among others:

Serbia is part of the EU Civil Protection Mechanism which has provided urgent assistance to Serbia:

Direct support from EU member states (Slovenia, Ireland, Austria) have already arrived for transit centres (blankets, tents, beds, heaters, etc.)
Through the EU Civil Protection Mechanism, 40 Serbian citizens have been repatriated from all over the world (in more than 15 flights)
This comes on top of consular repatriation organised in excellent coordination between the EU, the EU Member States and in Serbia. Over 2000 Serbian citizens have been repatriated by planes or bus organised by EU Member States. Serbia itself has greatly contributed to the efforts since it has not-only organised and funded repatriation of Serbian citizens to Serbia but also organised and funded repatriation of over 550 EU citizens back to their country of origin.

Serbia has been included in the European Solidarity Fund and is eligible to get additional assistance that will be shared between the most affected countries of the European Union along a precise methodology. This fund is there complement efforts of Serbia to cover part of the public expenditure used for providing assistance to population against covid-19 and/or for measures taken to prevent the spread.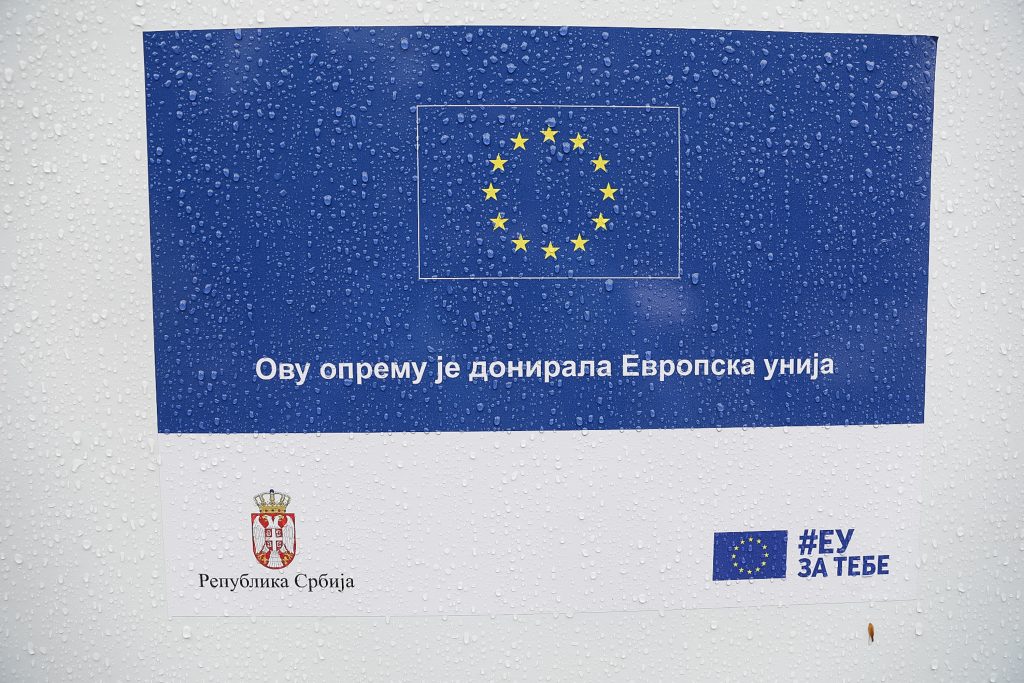 Serbia is covered by the rescEU stockpile of medical equipment, such as ventilators and protective masks to help EU countries in the context of the COVID-19 pandemic.
Serbia has joined the EU joint procurement agreement for purchase of health equipment. This Procurement instrument is used for all EU member States to jointly negotiate better equipment and better prices and faster delivery with industry and ensure coordinated procurement of medical equipment and medicines, such as personal protective equipment, respiratory ventilators and other items necessary in the fight against coronavirus.
Serbia and Western Balkans have been included in the "Green lanes" mechanisms that the European Union has put in place to securing fast border crossing lanes on EU and Western Balkans internal and external borders for essential goods such as medicines and food. On 22 April, it was reported that on the first day under this regime, 1,912 trucks crossed Green Corridors in the Western Balkans. Out of which, 21% carried essential goods with priority passage.
Serbia is also part of other crucial programme like Horizon 2020 which are currently Research and innovation for medicines, cure and vaccines against Covid-19