The Ministry of Interior Day celebrated in May 2018 marks the first time ever in the history of Serbian police when two Roma people with university degrees were hired and admitted into service. One of them is Marija Demic, a Magistra of Law from Nis, who was previously a Roma Citizens' Association activist. Nis-born, she graduated and received her Magister degree in her hometown, spent some time living in North Macedonia, she believes that thanks to her education and knowledge of the Roma language and culture, she will significantly contribute to better inclusion of the Roma national minority into contemporary life in Serbia.
"Hiring people is a good way to integrate minorities into society, but only if they are professionals and meet the conditions prescribed by the law," said Maria back then. She thinks that the Roma could take on important roles in the society, which is why it is important for them to be educated and why any form of help with working with the parents of Roma children, schools, the civil sector and institutions is of crucial importance.
Marija is the first member of the Roma community who received a Magister Degree, and then became permanently employed. The Ministry of Interior of Serbia employs 132 Roma people, but, unfortunately, such examples are rare. Officially, there are 27.000 unemployed Roma people in Serbia, and according to unofficial data, the real number of members of this community who are able to work is over 100.000. The greatest issue in hiring is that many of them do not have primary education, which further limits their opportunities to be included in modernization processes and find contemporary jobs. Additionally, the number of unemployed Roma women is four times greater than the number of unemployed Roma men. This is why the issues of education and creating better opportunities in the future are of particular importance for the new generation of women that can obtain the required qualifications in the labor market with the support of various support programs.
The Roma are the second most populous minority in Serbia, comprising about two percent of the total population. According to the latest census (from 2011), there were 147.604 Roma living in Serbia. The civil sector estimates that there are up to 500,000 of them, with the largest number (39%) living in southeastern Serbia. Some of the municipalities with the largest Roma population are Kostolac (19.5%), Bojnik (14.9%) and Vranjska Banja (14.4%).
The European Union (EU) is providing aid for the Roma inclusion process in Serbia to the tune of EUR11 million, and an additional EUR20 million planned for 2019. This aid is focused on education, employment, housing, as well as at the improvement of health and social care.
Citizens' Associations represent another serious and long-standing partner when it comes to working with the Roma, particularly Roma Women's Center Bibija. The director of this center Slavica Vasić has been supporting the Roma women in the fight for their rights for more than two decades and, thanks to her persistence and activism, she has managed to bring about changes which enabled young women to get better education and more independence. This is how Slavica  became a champion in her field, and she was awarded with a prestigious award – The European Commission awarded her with an EU Award for Roma Integration for the Western Balkans. Launched in 2014, this award aims to emphasize the political significance of the Roma integration in the EU enlargement process and to show the determination and dedication of the EU to improve the social inclusion of the Roma.
Slavica has been engaged in this fight since the mid-nineties. Initially, she was trying to point to Roma women problems during the radio show that she created for Radio Beograd, but her efforts were not enough. She soon launched a magazine for Roma woman, but that was short-lived as well since most of them were unable to read. That is why she decided to help them through different activities at the Center. She was in direct contact with users and they worked together on solving problems.
Numerous counseling centers and education programs have been organized at the Roma Women's Center, they have participated in advocacy and lobbying projects, and what is also  of significant importance is active participation of "Bibija" in drafting suggestions for all strategies and action plans regarding the Roma issue, as well as for the National plan for the Roma Gender Equality Strategy. The Center particularly supports the new National Coalition for Ending Child Marriages formed by the Government of Serbia.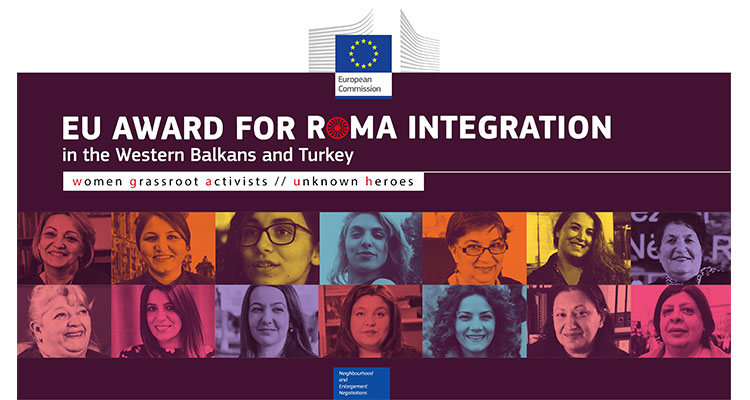 "We want to lower the number of child marriages, to enable Roma women to be educated and to be like other women in Serbia", Slavica pointed out after having received the EU award. "In areas where we have been working for a long time, the number of child marriages. Girls are going to school, they are more educated and that is important".
People with disabilities and the Roma are topping the list of discriminated groups. This is confirmed by numerous research of this phenomenon, as well as by reports of control and regulatory bodies, "Bibija" claims. Because of this, more equality and a promising future of Roma women and Roma families is their long-term mission. This Women's Center sees its activities through the definition of feminism dating from as early as the 19th century, from a dictionary that described feminism as a doctrine whose subject is the expansion of rights and the role of women in society". This is, as they claim, of great importance because, even though women represent the center of Roma families, they still have no independence when it comes to making their own decisions and participating to a greater extent in shaping of their own lives. Therefore, every action by Slavica and her team has been a difficult feat.
The name of the Roma Center has drawn inspiration from the tale of Bibija, a miraculous woman who reached the people during difficult times and advocated selflessness and mutual aid in the community. The Roma consider her to be the protector of children, and Orthodox Roma celebrate St. Bibija's Day in her honor.
Inspired by this story, Slavica emphasises that everything comes down to persistent field work, face to face with Roma women. She proudly says that one of the most important actions through which the Centre has achieved significant results is the project of economic strengthening of Roma women financed by the EU. Thanks to this, more than 500 Roma women acquired new knowledge, skills and tools necessary to get by in the contemporary labour market. Additionally, they have strongly motivated each other in active job hunt and suggestions for starting their own small businesses.
"It would be a dream come true if all Roma women were equal with other people. Then there would be no need for our Centre any longer, and our mission would be fulfilled", Slavica points out.
The European Union has donated more than EUR 3.6 billion since 2000 and has been the biggest donor and the most significant partner when it comes to the modernisation of society and institutions. The EU funds have been used to reform several areas: infrastructure, education, agriculture, culture, economy, industry, small and medium enterprises, energetics, state administration, social inclusion, flood protection, environment. The European Union has been Serbia's biggest and most significant trade partner. Two-thirds of foreign investments come from the EU and two-thirds of trade is done with the EU member states as well. In addition to donations, the European banks have invested more than EUR 8 billion. The EU realises all donations and investments in Serbia together with the institutions of the Republic of Serbia.