Aleksandra, Dusan and Novak met over a year ago in a workshop organised as part of the fifth generation of the European Debate School. While mastering debating and public speaking skills, they found out one thing they had in common: they were all interested in the European Union. Once the School was over, they had a chance to show what they learned at the National Assembly of Serbia in May 2019. They became a team.
Inspired and encouraged by their experience at the European Debate School – the project supported by the European Union Delegation to Serbia – Aleksandra, Dusan and Novak started the Student Debate Club in Nis and urged young people from the region to engage more and promote positive values.
The Student Debate Club opened in February 2020, thanks to the support from the Faculty of Philosophy in Nis, bringing together students of the University of Nis. The Club organizes workshops, offering students an opportunity to master debating skills and receive additional informal education. According to the founders, knowledge and experience offered by the European Debate School have had a decisive impact on their decision to start a debate club.
"I applied for the European Debate School in order to improve my public performance, but I grew interested in debating as well. Honestly, I had no idea that debating could be so useful as a standalone skill, that it doesn't serve only as a political tool," says Aleksandra Pesic, Student Debate Club President and a Communicology student at the Faculty of Philosophy in Nis.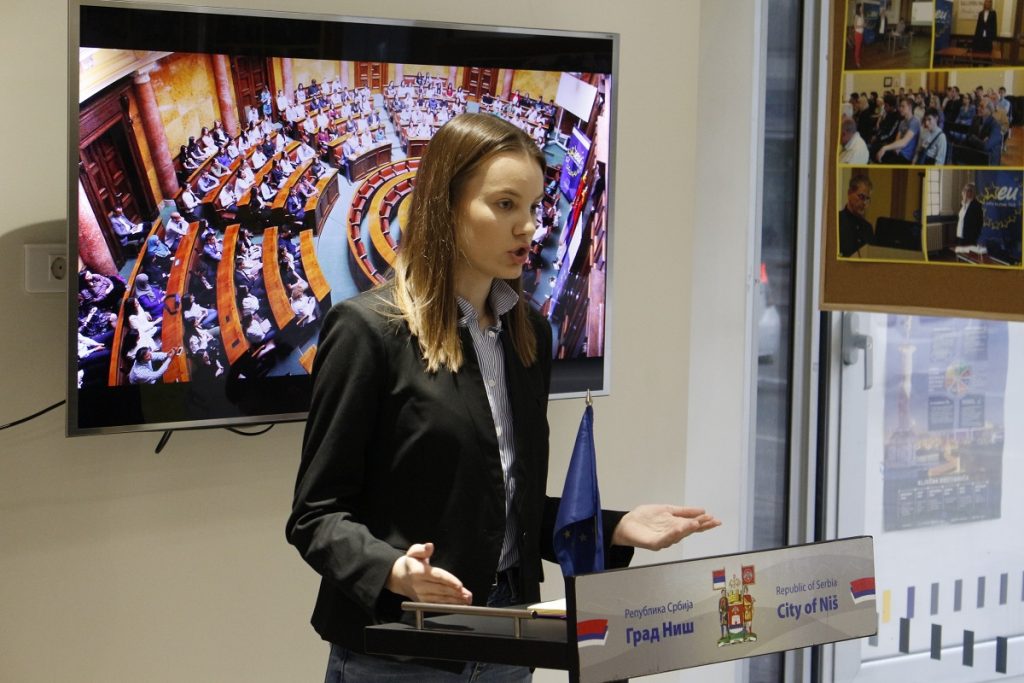 Aleksandra notes that during workshops and public debates, she and her fellow debaters developed argumentation techniques; they learned about effective teamwork; and how to rely on people they have just met for the sake of achieving common goals.
Dusan Zdravkovic, a student of the Faculty of Law in Nis, also highlighted positive effects of the European Debate School.
"I went there to improve my public speaking skills because I believe they will be useful for my future profession. Learning how to best use the information available and draw the most logical conclusion really meant a lot to me," Dusan Zdravkovic says.
Debating helps you to think ahead, to "think on your feet," and respect other people's opinion.
"The importance of the European Debate School lies in the fact that it helps students play a more active role in the society; this way we started our Debate Club. If we hadn't attended the European Debate School, we wouldn't have started the Club," Dusan underlines.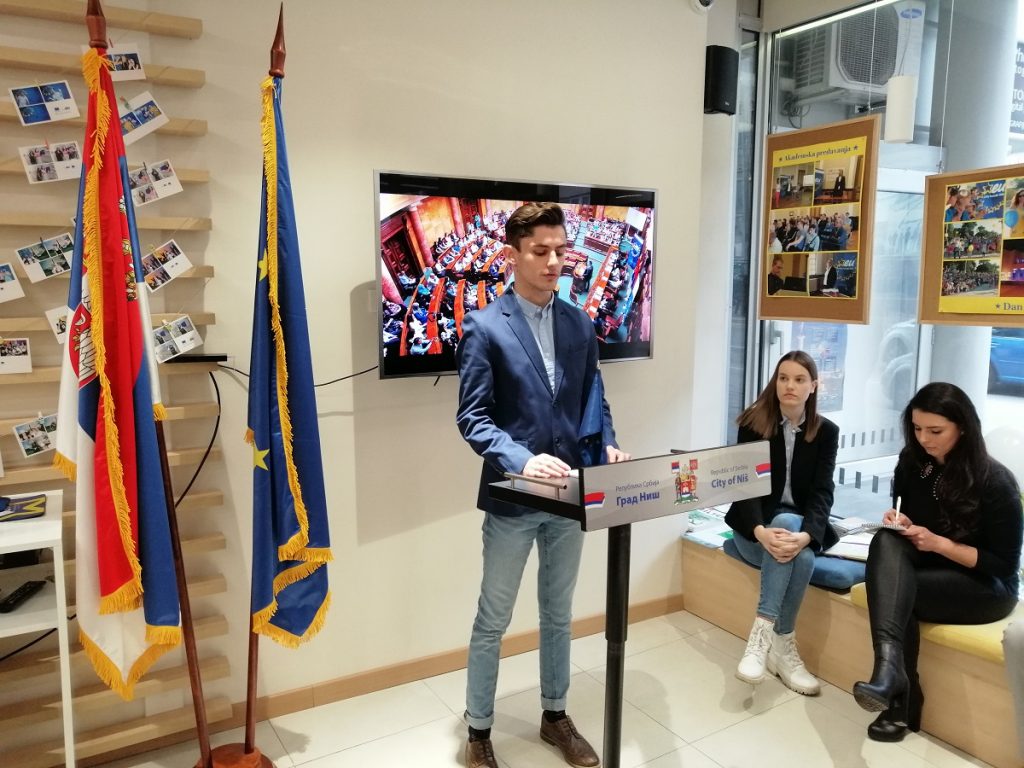 Apart from mastering debating and public speaking skills, university and high school students also learned more about the European Union, Serbia's EU accession process and the possibilities offered by EU membership.
Our debaters believe that university students are not too familiar with the EU, noting that the European Debate School was a chance to bring them closer to the idea behind the EU.
"During every debate, regardless of whether we were practicing or having a real public debate, we learned together using the material available at the EU Info Point, but we also used internet for research. Now we know much more about the EU and have a much better grasp of its importance," says Aleksandra and cites mutual cooperation and support as the most important EU values.
Before they set up the Debate Club, these young people had decided to bring other univeristy students in Nis closer to debating and offer them an opportunity their fellow colleagues in Belgrade and Novi Sad already enjoy. In the coming period, they will organize a variety of workshops. Apart from debating, they will also give lessons on rhetoric and public speaking, while facilitators from Open Communication will help them teach new club members.
Following a showcase debate held in late February 2020, the Club was officially opened. Trainings – focused on debating, argumentation skills and public speaking – will be held once a week at the Faculty of Philosophy in Nis. Also, the Club has set up cooperation with the Faculty of Law in Belgrade, attended by one of the creators of the Debate Club, Novak Celebic. The Club invites all students to join them and work together on mastering debating skills.
"Ever since we started practicing debating skills, we have improved our understanding of day-to-day issues and we now know how to analyse them thoroughly," Aleksandra Pesic stresses.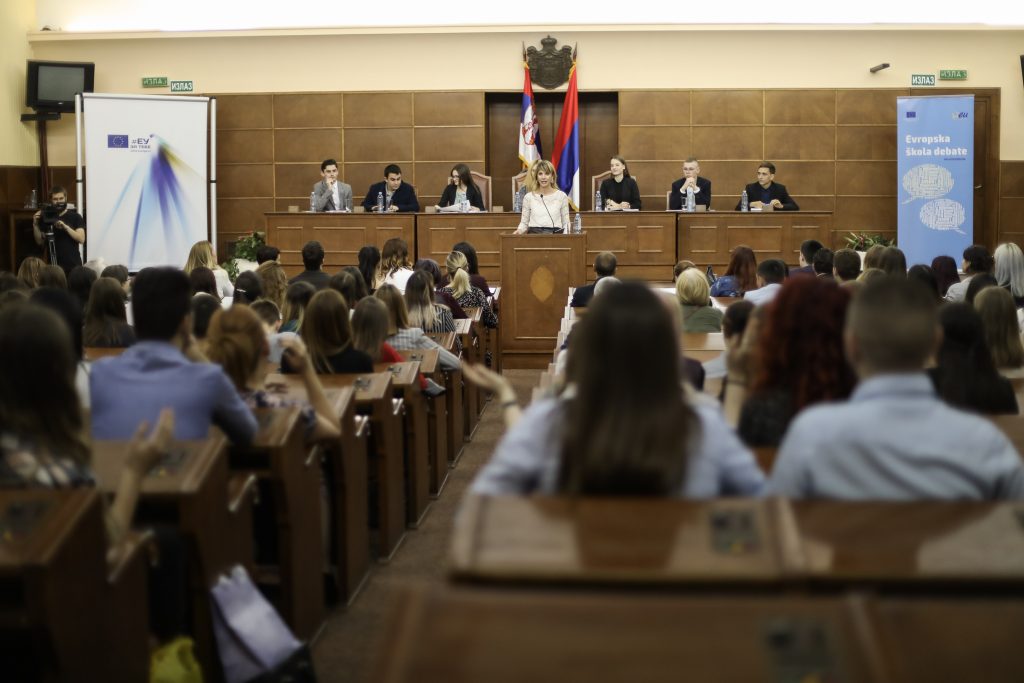 Miljana Pejic has led workshops and prepared participants in Nis. She believes the formation of new clubs to be a result of European Debate School trainees being highly motivated and the fact that the School educates an ever greater number of participants about debating principles, rules concerning different debating formats and argumentation.
"New clubs being set up outside of Belgrade promote the sustainability of the European Debate School and at the same time encourage young people to broaden their knowledge and pass it on to their peers," says Miljana Pejic.
She adds that the most important thing is for young people to stay on top of current affairs; not to jump on new information without double checking it; to be in constant pursuit of new reasons to explain why a certain opinion they defend is important and truthful.
"Young people master debating skills in everyday life as well; when talking to their friends, answering questions in class, when applying for a course, internship or job. Every time they put themselves in someone else's shoes and try to understand arguments from the other side – even though they do not staunchly support it – the young contribute to the development of their debating skills and keep the spirit of tolerance and mutual understanding up," Miljana Pejic explains.
Project European Debate School is organized by the EU Info Centre and the debating academic network Open Communication with support from the EU Delegation. The project aims to educate university and high school students about the European Union, the process of European integration and the skill of debating. In the past six years, the Debate School was attended by over 500 high school and university students from nearly 70 cities and towns across Serbia.
Trainees of the sixth generation will have a chance to introduce themselves in public debates across Serbia. For more details about the venues and dates of upcoming debates, please visit the web sites of the EU Info Centre and the EU Delegation to Serbia.