The European Union and the Government of Switzerland funded the replacement of joinery and reconstruction of the boiler room at the Milentije Popovic Technical High School in Crna Trava and its adjacent student dormitory.
"This EUR114,000-investment has created better learning and living conditions for 185 pupils from across Serbia. At the same time, for the municipality of less than 2,000 inhabitants that strives to keep youth from leaving, this is an investment in future," said Principal Dragan Kocic.
In order to increase the number of pupils and preserve traditional construction, the Municipality of Crna Trava offers free food and accommodation for up to 80 first grade pupils. Also, in 2013 the school introduced the geodetic technician profile, creating more opportunities for employment.
President of the Municipality Crna Trava Slavoljub Blagojevic said that apart from improved learning conditions, the project will contribute to reducing energy consumption. The project, he added, improved the knowledge of energy efficiency among the staff of public institutions.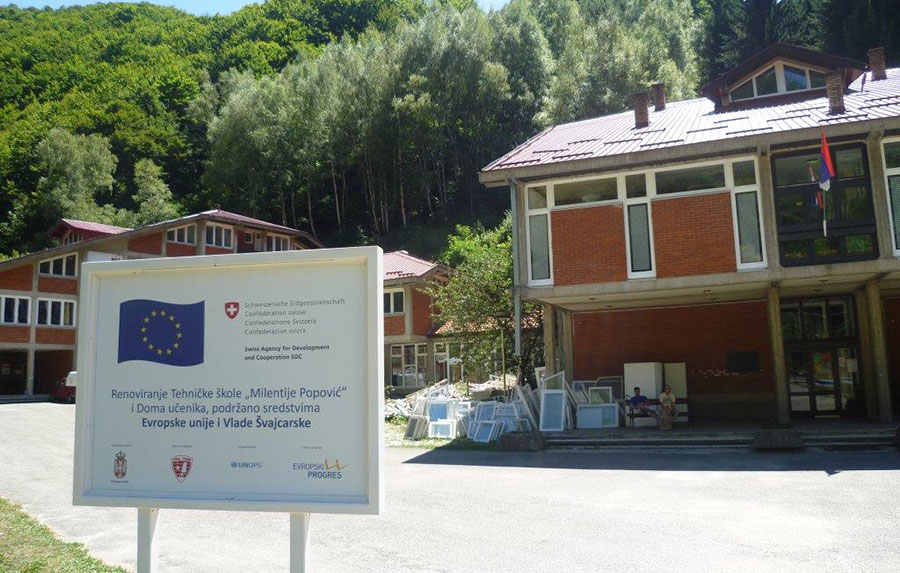 "On the one hand, the project will substantially reduce energy costs, while on the other, it will provide adequate working conditions in public buildings, such as the school," Slavoljub Blagojevic said, noting that during the project implementation, the Municipality applied basic principles of good governance, thus enhancing the efficiency and transparency of its work. Specifically, an energy efficiency action plan has been adopted and a team has been set up to monitor its implementation. The team has also made an overview of heating costs in public buildings and recommendations for future energy savings, thus contributing to diminishing the adverse effect on environment.
The European Union and the Government of Switzerland support activities of the European PROGRESS programme which contributes to sustainable development of south and southwest Serbia, with a total of EUR24.46 million. Approved projects will be aimed at strengthening local administrations; creating an environment that fosters development of infrastructure and economy; and improving the implementation of social inclusion and employment policy. The programme is implemented by the United Nations Office for Project Service (UNOPS).
The municipalities included in the programme – Novi Pazar, Ivanjica, Nova Varos, Priboj, Prijepolje, Raska, Sjenica and Tutin in southwest Serbia, as well as Prokuplje, Blace, Zitoradja, Kursumlija, Leskovac, Bojnik, Vlasotince, Lebane, Medvedja, Crna Trava, Vranje, Bosilegrad, Bujanovac, Vladicin Han, Presevo, Surdulica, Trgoviste, Brus, Aleksinac, Gadzin Han, Doljevac, Merosina, Svrljig, Babusnica, Bela Palanka and Knjazevac in southeast Serbia.