Serbia and the EU have agreed a set of seven new projects on energy, environment and transport infrastructure. This constitutes overall the biggest investment of the EU in Serbia dedicated to a green economy. The Operation Board of the EU and its member states co-financed Western Balkan Investment Framework (WBIF) approved € 263 million of EU grants for seven projects in Serbia.
The approved EU grants complement loan funding from the European Investment Bank (EIB), the European Bank for Reconstruction and Development (EBRD) and the German Kreditanstalt für Wiederaufbau (KfW), as well as national contributions from Serbia. The funds are a continued donation of the European Union to support the Green Agenda for the Western Balkans and constitute elements of the Economic and Investment Plan of the EU. It is aimed at enabling further loans as a guarantee. Following this decision to commit these funds the procedure will continue to allow the beginning of the projects in the future in view of their completion in the coming years.
With this new wave of EU funded large-scale infrastructure projects Serbia and the EU are continuing to work together for better and more prosperous future. New infrastructure will provide better connectivity within Serbia and with EU countries. A Paraćin – Međurovo section of Belgrade – Niš railway will be upgraded for high speed travel, residents of Palilula-Belgrade will finally have modern sewage system and the Serbian energy sector will be boosted with new renewable energy capacities in Vlasina and Kostolac.
These projects will directly impact the quality of life across Serbia by improving connectivity, reducing unnecessary emissions and environmental degradation. With this € 263 M nonrefundable EU investment, substantial economic growth would be enabled by the creation of new business opportunities and jobs in local communities. The donation to Serbia in the energy sector is a part of € 500 million funds for projects in the energy sector of WB countries announced at the recent EU-Western Balkans summit in Tirana. It should also help Serbia to decarbonise its energy sector by increasing production from renewable energy sources in order to reach its renewables target for 2030.
The Head of EU Delegation to the Republic of Serbia Emanuele Giaufret, emphasized the moment and importance of this large-scale investment.
"Times of great energy and economic crisis demand timely reactions and substantial support in critical sectors. In the same time, we remain committed to a cleaner environment and provision of support for better and quicker development of Serbian local communities. Large scale projects we are already developing together, such as Serbia-Bulgaria Gas interconnector and Trans-Balkan electricity corridor, the Railway line from Belgrade to Niš on Corridor X,  are of great value, not only for the economy, but for the local communities and connectivity. They provide jobs, access to better services and improved environmental conditions."
Minister of European Integration Tanja Miščević stated that these funds, whose allocation was jointly agreed by the European Union and our country, will significantly contribute to higher living standards of citizens across Serbia.
"The EU decision to approve grants in the amount of EUR 263 million is another indicator of concrete benefits of the European integration process. Citizens will see the results very soon – train journey from Niš to Belgrade will be much faster, passenger safety will be improved, production capacities of our energy system will be improved, notably those from renewable sources such as wind energy, and transmission system losses will be reduced as well. Residents of Kotež, Borča and Krnjača will have improved living conditions as a result of construction of a modern wastewater management system in that part of Belgrade, on the left bank of the Danube", underlined minister Miščević and added that these very projects demonstrate the benefits even before EU membership.
Tanja Miščević emphasised that, by approving these seven projects, the European Union is helping us reach this goal as soon as possible and we are extremely grateful for that.
Over the next seven years, the EU will mobilise up to €30 billion in cooperation with international financial institutions through the Economic and Investment Plan for the Western Balkans launched in 2020. The following EIP projects for Serbia were previously endorsed in 2022: Removal of WWII German sunken vessels from the Danube – Prahovo sector; Niš railroad bypass; Stalać – Đunis railway section, Trans-Balkan electricity corridor; Advanced system for remote meter reading in Kraljevo, Čačak and Niš,  Rural broadband rollout and University Children's Hospital Tiršova 2 in Belgrade.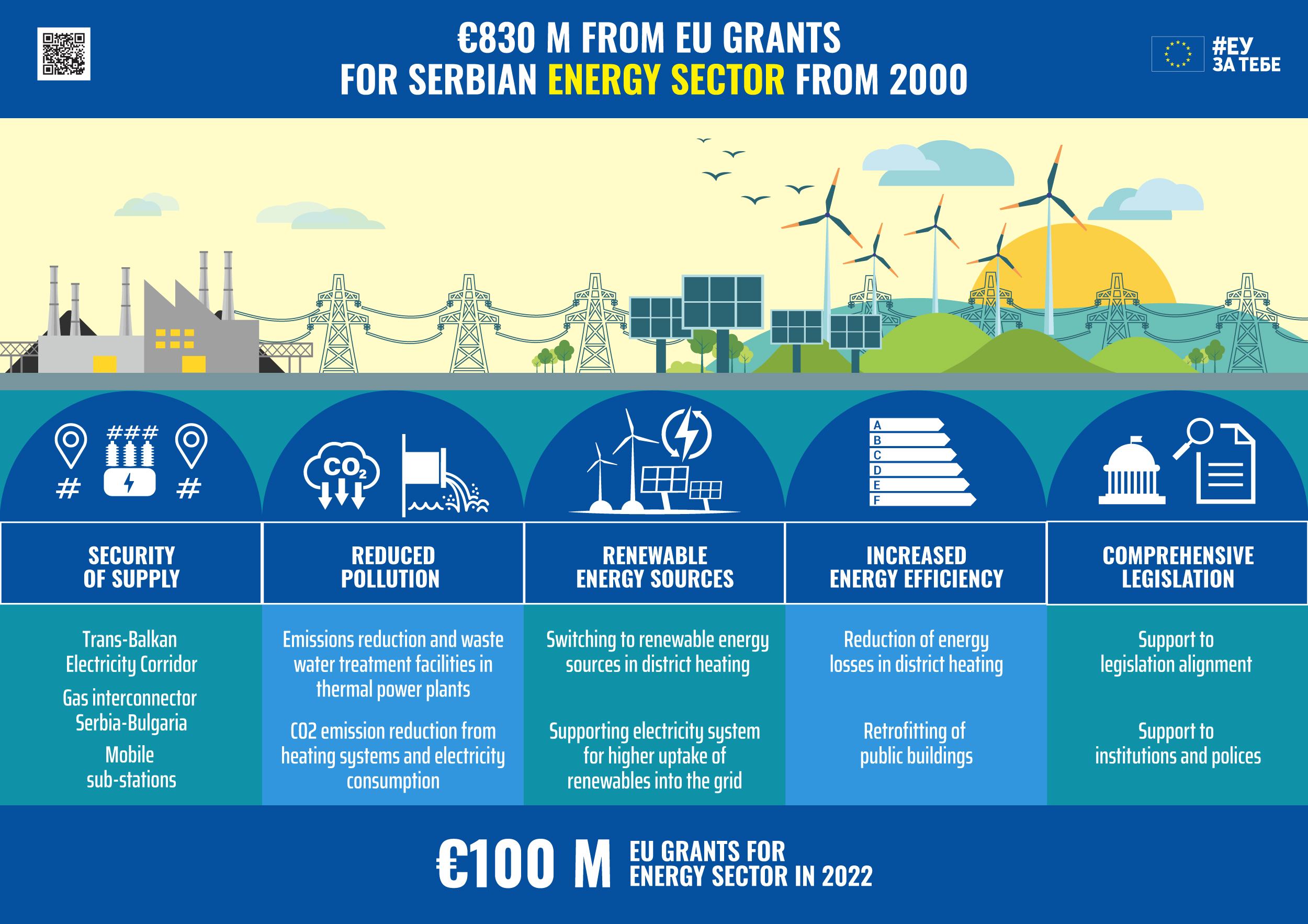 The EU has invested more than €830 million in the energy sector in past two decades. Only in 2022 the EU support to energy sector in Serbia is estimated at €100 million. Additionally, the European Union will provide Serbia with €165 million in direct budget support so that citizens and small and medium-sized enterprises can pay for energy and deal with the current energy crisis.
Projects on energy in detail:
In the energy sector € 31.2 million was approved for construction of new wind farm Kostolac (KfW loan € 81.8 million) and € 16.1 million was approved for the reconstruction of hydro power plant Vlasina (EBRD loan € 61.6 million).
In addition, € 1.7 million grant was approved for technical assistance for the preparation of technical documentation for two solar power plants at the abandoned ash disposal fields at thermal power plants Kolubara A and Morava and € 750.000 for solar thermal and heat pump renewable energy integration in Novi Sad district heating system.
Reconstruction of Vlasina Hydropower Plant project will be funded with WBIF EU grant €16.1 M and EBRD loan (est.) €61.6 M. Expected completion is in 2028. Vlasina hydropower system was constructed in two stages, 1946-58 and 1972-77, with an installed capacity of 128 MW. Due to the long exploitation period and equipment malfunctioning, the cascade currently has an output of only 60-80 MW. This project will replace all generation units, electromechanical and hydromechanical systems and control equipment. These investments will ensure a reliable and safe operation of the cascade over the next 30 years, with an output of 136 MW. The plants are expected to produce 309 GWh annually, equivalent to the energy demand of 93,000 households.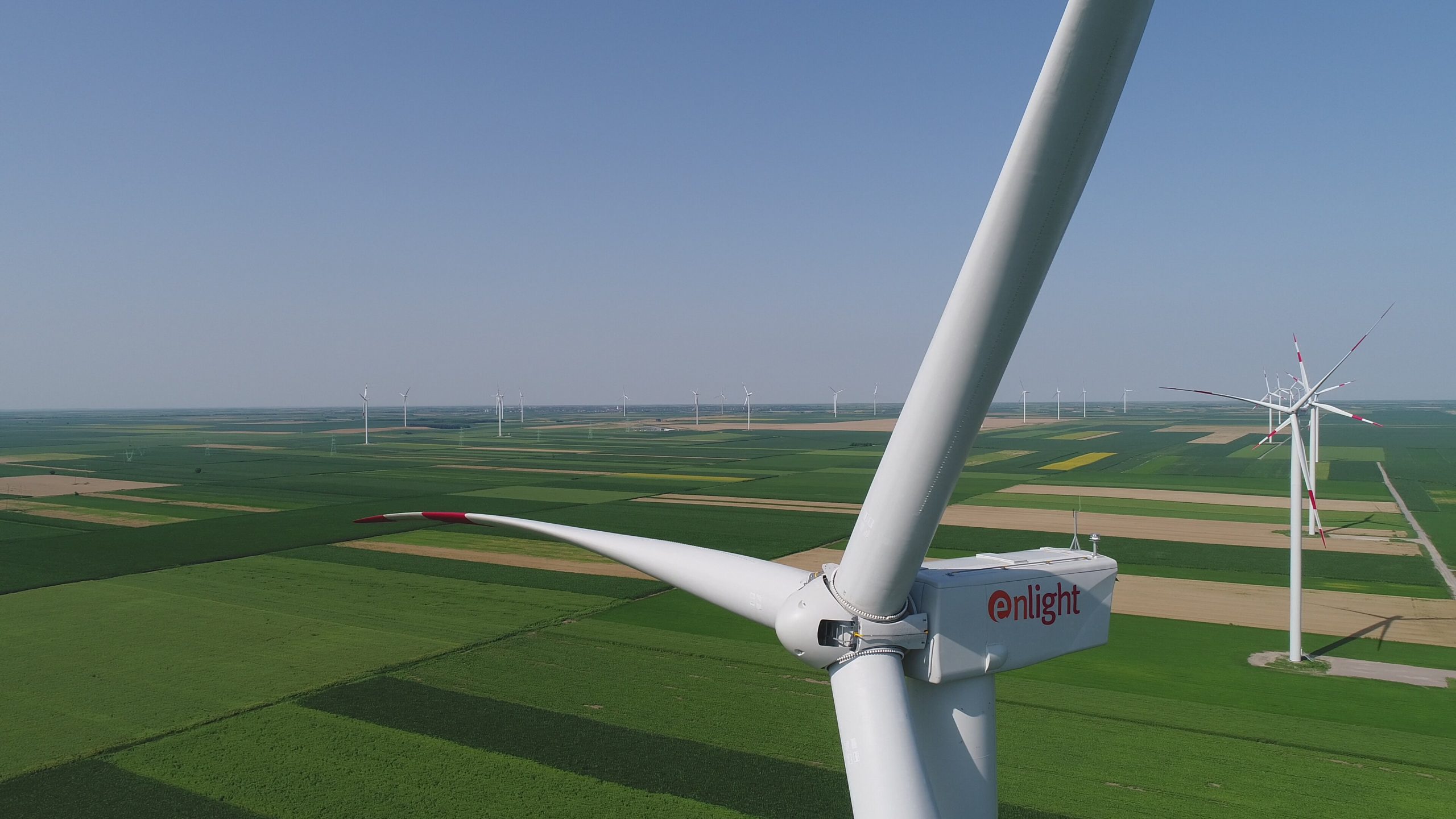 New Kostolac Wind Farm will be funded with WBIF EU grant of €31.2 M and KfW grant and loan €81.8 M worth. The Government of the Republic of Serbia will contribute with €32.3 M. Expected completion is in 2024. This project will install a 66 MW wind farm in Kostolac, in eastern Serbia, on the site of depleted open-cast mines. The plant is expected to produce 187 GWh of electricity, equivalent to the energy demand of 45,000 households, and displace 174,000 tonnes of CO2 annually. The investments are part of the country's effort to diversify the energy mix, increase renewable electricity generation, reduce dependence on fossil fuels, support decarbonisation, and clean up and reuse the site of the exhausted coal mine.
Transport and environmental infrastructure
In the transport sector, € 175.9 million was approved for Corridor X: Paraćin-Trupale-Međurovo railway section. In addition, € 37 million was approved for construction of sewage system in Palilula, Belgrade.
Corridor X: Belgrade – Niš Railway Line, Paraćin – Međurovo Section will be funded with WBIF EU grant of €175.9 M. Previous EU grant is €6.3 M, EIB loan (est.) €188.3m and EBRD loan (est.) €76.9m. This investment project will construct a 48.3 km long double-track section, including electrification and signaling and telecommunication systems, of the line from Belgrade to Niš on Corridor X in Serbia for traffic speed of up to 200 km/h. This is the second endorsement made by the EU for the same Corridor under the EIP, following the approval of grant funds for the Stalac –Djunis section of Corridor X, with the aim of establishing an interoperable core transport network compliant with the EU TEN-T standards in the region.
Construction of Palilula (Belgrade) Sewage System will be funded with WBIF EU grant of €37 M and EIB grant and loan of €36.7 M. The Government of the Republic of Serbia will contribute with €10.5m. Expected completion is in 2027. This project aims to provide vital infrastructure and reduce pollution of the Danube River and groundwater through rehabilitation and extension of the existing sewerage network and construction of a new waste water treatment plant for the municipality in line with EU standards. These investments will help provide better sanitation services and improve living conditions for over 81,240 people, as well as raise environmental and social standards in Serbia.