EU Delegation postpones all Europe Day events and campaigns in Serbia next week – time is not to celebrate, but to mourn and grieve says EU Ambassador Emanuele Giaufret
All Europe Day celebrations and campaign organised by the EU Delegation next week will be postponed to a later date.
Every 9 May, Europe celebrates Europe Day, marking the anniversary of the Schuman Declaration made on 9th of May 1950. This declaration is considered as the founding moment of the European Union, when the vision of a Europe of peace and solidarity, built on cooperation, democracy and human rights was made.
"The European Union and its values, and the cooperation between Serbia and the European Union until it fully becomes a member is something to cherish and celebrate. But in light of the tragedies that happened in the last few days in Serbia that took the lives of too many innocent people, children, school staff… – we consider that times are not to celebrate, but to mourn and grieve. In these hard times, our hearts and thoughts go to the victims who lost their lives in the tragic events and their relatives and friends. There will be other times to celebrate the future and the opportunities we have together", said Ambassador Emanuele Giaufret, the Head of European Union Delegation to Serbia.
The following events are postponed to later dates:
The traditional Europe Day celebration of 9 May;
The Launch of the European Film festival in Čačak on 8 May;
The events and concert on May 8th, organised in the context of the "Rhythm of Europe" festival by the Student Cultural Centre Novi Sad;
The Europe Day event at the Science and Technology Park of Novi Sad on May 9th;
The Europe Day reception and exhibition organised in Niš on 10 May;
The "big EU Party" organised in Belgrade (Hangari, Luka Beograd) on May 12th, with the participation of Alphaville (Germany), Nipplepeople (Croatia), Stereo Banana (Serbia), DJ Luton (Serbia), Lea Dobričić (Serbia), Dejan Milićević (Serbia), DJ Cosmic G (Serbia). This would have been the first ever concert of Alphaville – renown throughout the world for its hit "Forever Young" and "Big in Japan" – in Serbia.
The EU Delegation has also decided to postpone its TV / Social Media and Billboard campaign "EU Je Uz Tebe", promoting the opportunities that the EU offers to Serbia citizens, organisations and businesses. Instead, we will dedicate the already-rented billboards to express unity and solidarity with Serbia in these difficult times.
Instead of all these events, on 9 May at 11am, the European Union Ambassador and the Minister for European Integration Tanja Miščević, together with the Embassies of the EU Member States to Serbia will unveil a flower installation in Kalemagdan fortess. The flower installation will represent the European Union and Serbia together paying a tribute to the victims and will be an expression of solidarity towards the families and friends of the victims.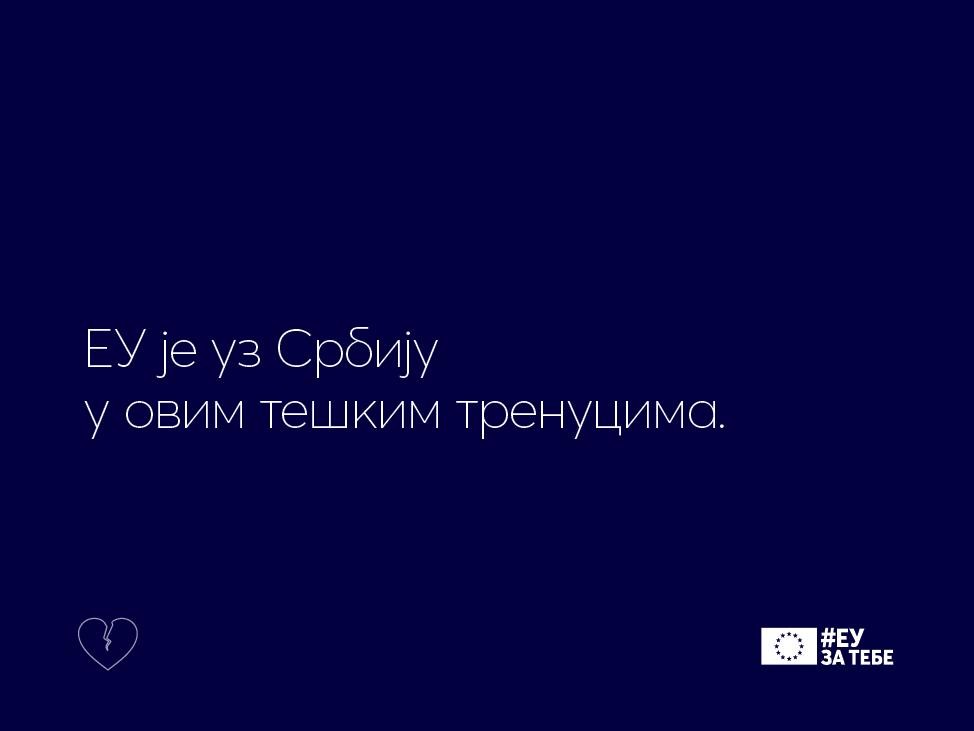 Photo Translation: EU is with Serbia in these difficult times