"This year was an excellent opportunity to show to the citizens that the EU is not just a bureaucracy, but a Union of people who appreciate culture, cultural diversity and cultural heritage," said today Head of Information, Communication and Press at the EU Delegation to Serbia Paul-Henri Presset during a New Year's cocktail party held at the EU Info Center.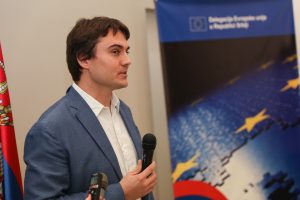 Presset said that 2018 was a year that showed that the EU takes care about the environment, fights the climate change, loves sports and protects citizens' rights.
Presset pointed out that the latest public opinion polls show that Serbian citizens recognise the EU as the biggest donor in Serbia for the first time.
"That means that we worked hard, not just us in the EU, but also in the Ministry, including the rest of our partners. We thank you for it, but I think that we have even more work ahead of us and I hope that our cooperation will be even better next year," said Presset.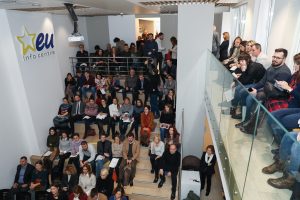 Ljubica Markovic, Team Leader of the EU Info Center, said that 2018 was the year of cultural heritage, the year in which the EU Info Center in Belgrade, together with two info points in Novi Sad and Nis, organised over 70 events.
Marina Rakic and Marija Stevuljevic presented the activities of the EU Info Center. Recognition letters were then presented to various organisations, institutions and individuals with whom the EU Delegation to Serbia and the EU Info Center collaborated during 2018.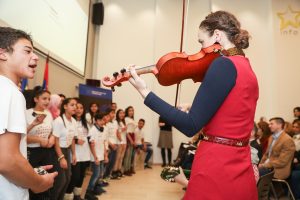 Also, in attendance was El Sistema, children's choir and programme, implemented since 2014 in Serbia by the Music Art organisation in partnership with 60 countries from all over the world. With the support of the Ministry for Education, Science and Technologic Development, the program is implemented in cooperation with elementary and music schools, departments of social services, cultural centers and units of local governments and local self-governments. Currently, the El Sistema program Serbia enrolls over 650 children from 10 cities, and engages 34 tutors.
About twenty students of Branko Pesic elementary school in Zemun, also members of the El Sistema choir, sung Ode to Joy and then a few songs from their own repertoire, which contributed to the celebration of the successful year behind us in the EU Info Center.