18 small scale civil society organizations from the Western Balkans were awarded the grant support totaling 150.000 EUR for activities in combating youth unemployment.
The Grant Award Ceremony has been organized by Belgrade Open School. Contracts were awarded by Mrs Milorad Bjeletic, the Excutive Director of Belgrade Open School and Mr. Steffen Hudolin, Head of Operations – Section II from the Delegation of the EU in Serbia.
Youth unemployment in Western Balkan 6 is pressing, with youth unemployment rates that are among the highest in the world. They vary from 28.3% in Albania, 29.4% in Montenegro and 29.7% in Serbia to 38.8% in Bosnia and Herzegovina, 45.4% in North Macedonia and 55.4% in Kosovo* (2018).
To address these challenges Belgrade Open School has launched a regional-scale initiative WeB4YES (Western Balkan Civil Society Organizations for Youth Employment Support) designed to deliver innovative cross-sectorial approaches and provide young unemployed citizens of the region opportunities for employability enhancement and employment. The Project aims to address the existing challenges of insufficient cooperation among the civil society actors and public authorities in the policy processes and decision-making toward the reform process regarding youth unemployment.
WeB4YES team has conducted a regional research to identify major challenges regarding youth employability, active labour market measures for youth, enabling environment for youth entrepreneurship and lifelong entrepreneurial learning.
Based on the analytical report and regional and national consultations with representatives of the public sector, business sector and civil society organizations, the key policy challenges in these areas were identified.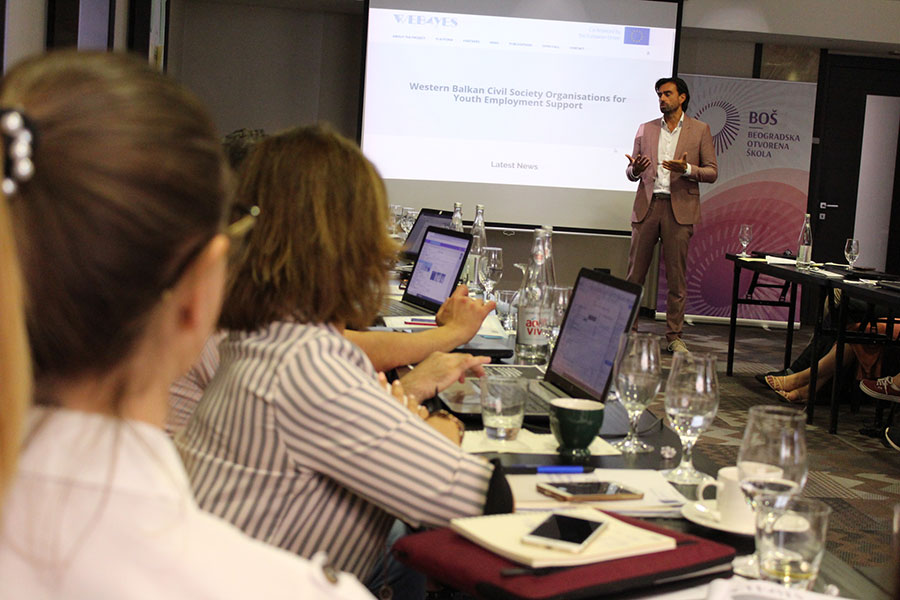 Following the review of the challenges, policy briefs outlined set of recommendations covering important aspects of employment and entrepreneurship of young people. These recommendations are further used to advocate for changes in the climate that shapes the education, employment and entrepreneurship of young people along the WB region.
'In the current context, it can`t be emphasized enough how crucial programmes such as the WeB4YES are: in a region where youth unemployment remains very high, and in which structural reforms of the education and training sector are under way to better reflect labour market needs, the contributions of CSOs in the design, implementation and monitoring of relevant public policies is key – including at local level' said Hudolin.
Representatives of granted organizations and their partners, attended the Capacity Building Training to strengthen their capacities and knowledge for the implementation of the project. Throughout the training, participants were instructed about all segments of the project implementation process by the experts form the Belgrade Open School.
"This support will aim to empower civil society actors to make a substantial contribution to addressing many of the employment and entrepreneurship issues through their advocacy and oversight activities at the local level, and thus put greater focus on the needs of young citizens in policy-making", said Jelena Manic Radoicic, Program Manager from Belgrade Open School.  "In this way, small-scale CSOs from Western Balkans will strengthen their involvement in public decision-making, but also in designing and implementing the innovative initiatives related to youth employment, employability, and entrepreneurship", she emphasized.
Eighteen grantees will implement projects in the field of youth employability and youth entrepreneurship during 2019 and 2020. WeB4YES project has been supported under the framework of the Civil Society Facility and Media Programme 2016 – 2017 Consolidating Regional Thematic Networks of Civil Society Organisations by the European Commission. WeB4YES Project will last for 36 months starting from January 2018. The list of partners, associates and local initiatives is available here.
*This designation is without prejudice to positions on status, and is in line with UNSCR 1244/1999 and the ICJ Opinion on the Kosovo declaration of independence.