"The European Union has earmarked EUR130 000 for the reconstruction of family homes and assistance to agricultural producers in Kladovo who were hit by 2014 floods," said Deputy Head of the EU Delegation to Serbia Oskar Benedikt during his visit to Kladovo Municipality.
Deputy Head of the EU Delegation met with Municipality President Dragan Budujkic and handed over bee hives to bee-keepers from this area whose means of production were damaged in floods.
"EU solidarity with Serbia continues through support for farmers in East Serbia. Today, 13 bee-keepers received 91 bee hives to renew honey production and secure better living conditions for their families. As many as 378 agricultural producers will receive EU support in the coming period," said Deputy Head of the EU Delegation to Serbia Oskar Benedikt.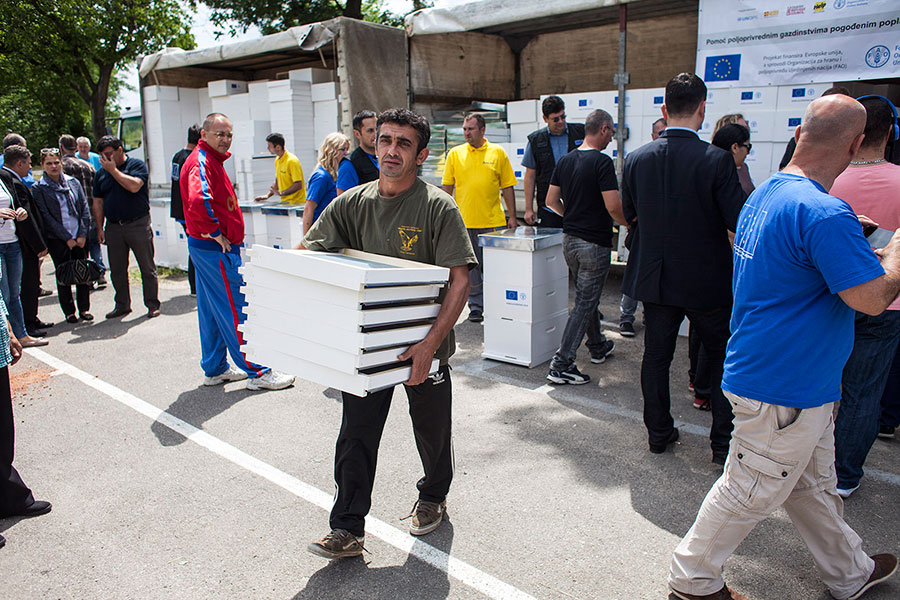 "EU donations are very important to the Municipality of Kladovo and its citizens who have been hit by floods which is why we will continue our cooperation with the EU in the coming period," Kladovo Municipality President Dragan Budujkic.
Deputy Head of the EU Delegation also visited the families of Tosic, Lapadatovic and Jonovic, who are among 16 beneficiaries of EU assistance in Tekija.
"The European Union has allocated EUR170 million for flood relief which makes it the biggest donor in Serbia when it comes to tackling this particular challenge. So far, it has ensured decent living conditions for over 1 000 families; also, 15 households are currently being reconstructed, whereas one new house is under construction in Tekija," Deputy Head of the EU Delegation to Serbia Oskar Benedikt said.
The previous day, Benedikt marked the completion of project aimed at land consolidation in Radujevac, Municipality of Negotin, and toured the complex of wineries Rajacke pimnice, as well as the monastery of Bukovo where he talked about the development of wine production in this area with the monastery brotherhood. The European Union has allocated EUR100 000 for the construction of two new houses, reconstruction of two households and support for 314 agricultural producers with a view to supporting flood relief efforts in Negotin.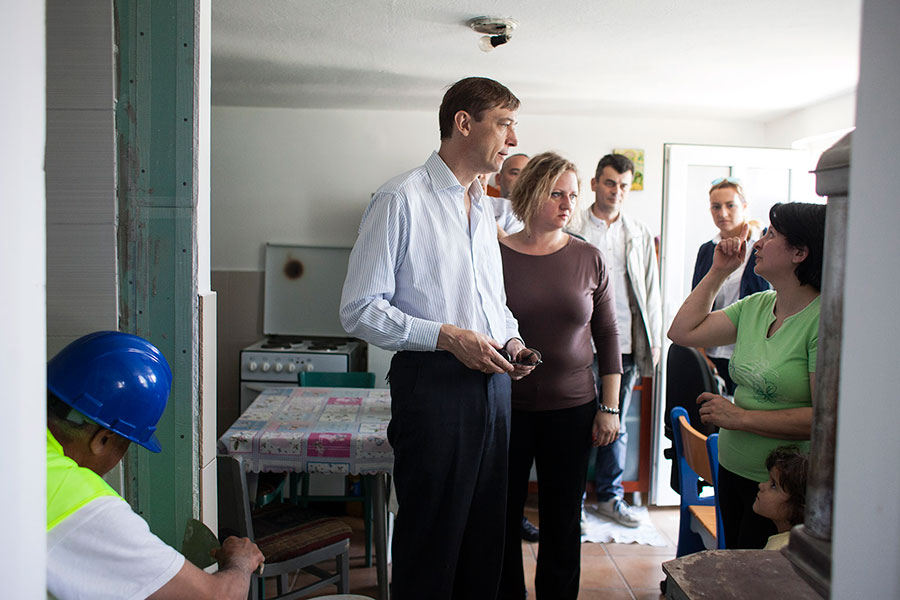 European Union Assistance for flood relief in Serbia programme, worth EUR92 million, is funded by the European Union under the pre-accession funds IPA 2012 and 2014. The funds will be used for construction of new houses, rehabilitation of public buildings and infrastructure, private houses and roads and recovery of economy and agriculture in municipalities most affected by floods. All activities on the ground are implemented by the United Nations Office for Project Services (UNOPS), Food and Agriculture Organization of the United Nations (FAO), organisations HELP and ABS and Danish Refugee Council (DRC), Austrian Development Agency (ADA) and World Bank – in coordination with Government of Serbia Public Investments Management Office.