The European Union will allocate additional EUR4 million in food for migrants accommodated in reception centres in Serbia, announced EU Commissioner for Humanitarian Aid and Crisis Management Christos Stylianides during his visit to the reception centre in the Belgrade suburb of Krnjaca paid together with Serbian Minister of Labour and Social Affairs Aleksandar Vulin.
Stylianides told the press that he visited Krnjaca to show solidarity with refugees and reaffirm EU's readiness to continue to help them.
European Commissioner said that the refugee situation has altered over the past year since his last visit to Serbia, recalling that refugees now spend more time in Serbia than before.
Stylianides therefore believes that it is necessary to set up additional reception centres.
He thanked Serbian Government and citizens for the solidarity shown and support provided to refugees, adding that the European Union stood by Serbia.
Stylianides underscored that the EU had allocated more than EUR20 million in humanitarian aid for Serbia, adding that the funding had been earmarked from various EU funds.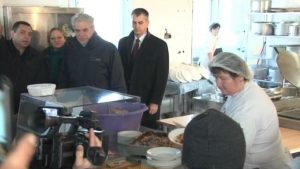 Vulin said that Serbia would not be opening new reception centres, adding that the existing ones provided enough room for everyone in need of accommodation. He also said that the official reception centres hosted more that 6,000 people, whereas some 1,200 refugees were still roaming in the streets, adding that they could ask for accommodation at one of the reception centres as well.
He said that Serbian Government would continue to take care of migrants and assist both people with pending asylum applications and those who have not applied for asylum in Serbia.