The contest that offers cinephiles a chance to visit some of the most prestigious film festivals in Europe continues on 10 June and runs through 12 August.
Contestants are invited to join the new round of cinema challenge and watch 10 European films in 10 weeks; to sign up at europeanfilmchallenge.eu, post a photo that proves they watched a film and score points. For each European film they watch they will be awarded four points, while each film platform brings three points. Platform may include cinema, film festival, TV channel, VoD platform, or any other legal way to watch a movie. The biggest cinephiles or the person with the highest score in this round will win a trip to the Venice Film Festival. If the Festival gets cancelled or if travelling to Italy is not possible due to COVID-19, the winner will be awarded a full year subscription on dafilms.com and a movie projector, so they can enjoy their favourite movies at home. During the contest, participants may score additional points. More info about the scoring system can be found on social networks @europeanfilmchallengeserbia.
European film challenge is part of a major European interactive project, co-funded by Creative Europe MEDIA, which includes the use of innovative and digital promotional tactics and tools in order to increase the circulation of European films on different platforms. The contest takes place in eight European countries simultaneously: Serbia, Bosnia and Herzegovina, North Macedonia, Czech Republic, Spain, Portugal, Lithuania, and Latvia. In Serbia, the contest is organised by Beldocs International Documentary Film Festival, scheduled for 3-10 September 2020.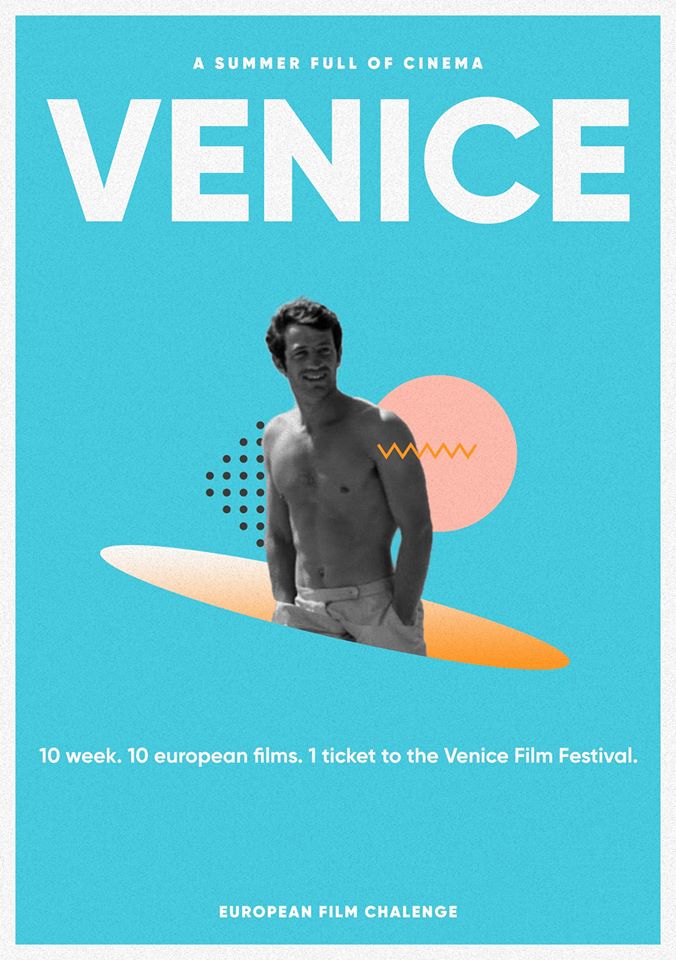 Photo: European Film Challenge
As part of its efforts to support film festivals, Creative Europe MEDIA sub-programme has supported 13th edition of Beldocs International Documentary Film Festival with EUR46,000. Beldocs takes part in several projects funded by Creative Europe MEDIA, such as AVA Doc project, which brings together 27 partners from nine European countries with the aim to make European films more available for library users in different European countries. Short and documentary film festivals in Europe make their selection of films available for users of 15 libraries across Europe. In Serbia, the users of the National Library of Serbia and the Library of the City of Belgrade will have the opportunity to watch the most prominent documentary films from around the world from Beldocs' previous selections via VOD platform; project Beldocs Industry 2020 will be held during the 13th edition of the festival at the Yugoslav Cinematheque (the National Film Archive of Serbia) in Belgrade. Beldocs Industry was launched eight years ago in response to trends and needs of the industry, focusing on underdeveloped parts of Europe. Now, it stands for one of the largest get-togethers of film professionals from around Europe.
The Republic of Serbia joined Creative Europe's MEDIA sub-programme in December 2015. Sub-programme MEDIA of Creative Europe promotes the development of the audio-visual and multimedia sectors by providing support for: development, distribution, and promotion of feature European films, animated films, documentaries, and television drama; development and promotion of new media content; professional training of film professionals; development of new technologies and platforms for distribution of audio-visual content; film festivals; and audience development. Funding is available in several categories, including support for producers in developing innovative and competitive projects in areas of cinema, TV and video games; support for distribution of European audio-visual works; audience development and professional training; and networking. MEDIA Desk Serbia is the implementing body of the MEDIA sub-programme set up within the Film Centre of Serbia. Since 2016, companies and organisations from Serbia have benefitted from over EUR3 million in grants from the MEDIA sub-programme through a number of calls for proposals.