Ambassador Emanuele Giaufret presented to President Aleksandar Vucic the letter of credence by which the President of the European Council Charles Michel and the President of the European Commission Ursula von der Leyen have appointed him as the new Head of the Delegation of the European Union to the Republic of Serbia. The ceremony took place on Friday 3 September at the Palace of Serbia.
On this occasion, Ambassador Giaufret said: "It is an honour for me to serve as an Ambassador of the EU to Serbia. Serbia is a very important country for the European Union, and similarly we know the EU is very important to Serbia, as its main trade partner, investor and donor, giving further stimulus to the country's development. We have an extraordinary agenda here, which is shared by all EU member States and Serbia: to make Serbia a new member of the EU. There is certainly hard work ahead of the country, and I will dedicate my whole mandate to support Serbian institutions and society to reach this objective.  I am a true believer in the European project and I know that Serbia's accession is will be a good thing for everyone in Europe. We are much stronger when we work together and this is something that benefits all citizens. I have now settled with my family here and we are looking forward discovering Serbia and its people."
President Vučić welcomed Ambassador Giaufret wishing him success in performing his duty and pointing out that Serbia's fully-fledged EU membership remained one of the foreign policy priorities. He also expressed his belief that Ambassador Giaufret, with his experience and engagement, would contribute to further strengthening of the cooperation with the EU, as well as during Serbia's negotiations on the fully-fledged membership. "It is this perspective that gives an additional stimulus to the reforms we are implementing, especially in the area of rule of law and green agenda", President Vučić said, pointing out that support from the EU and its institutions was of extreme importance in this process.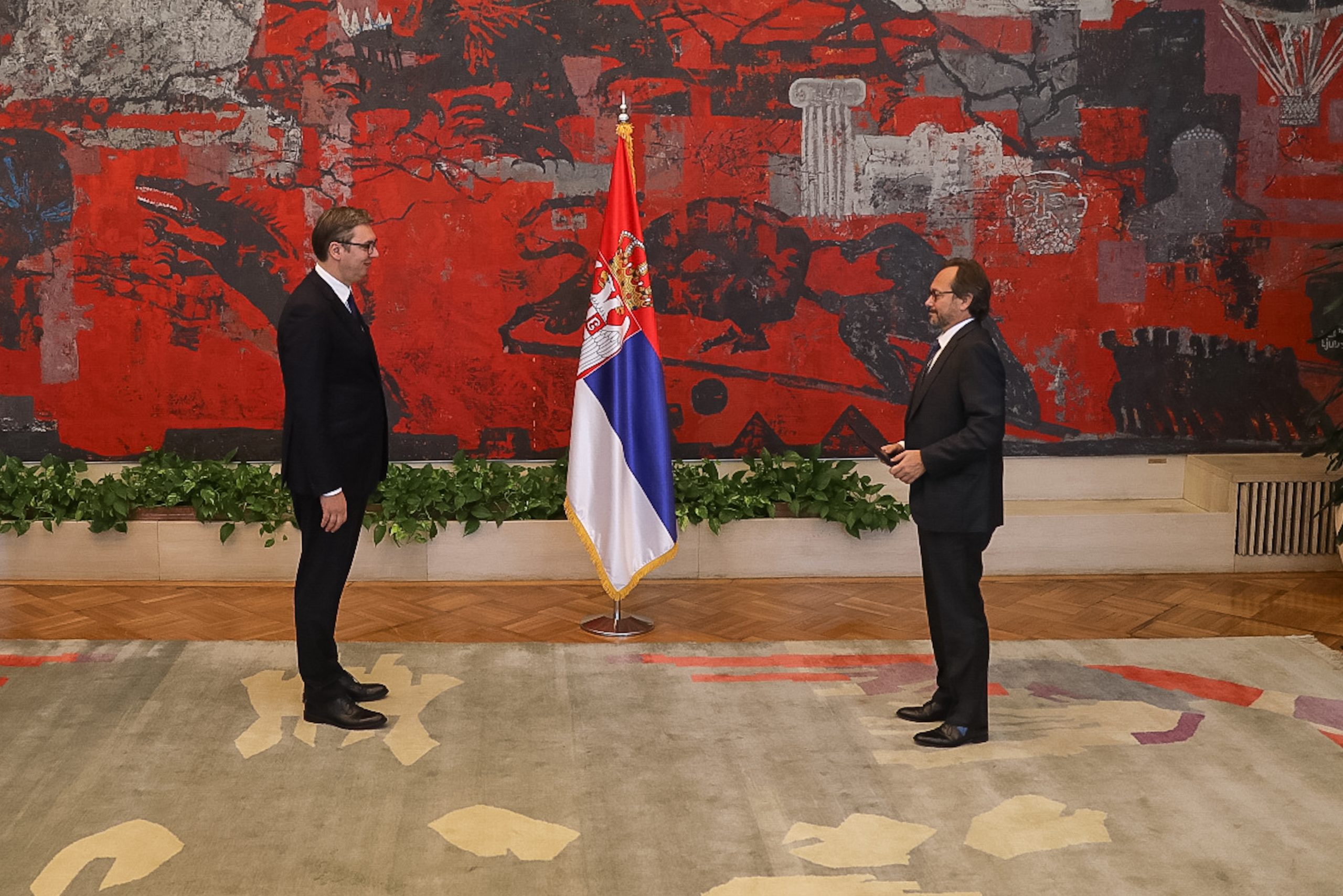 Before coming to Serbia, Giaufret spent four years as Ambassador of the EU to Israel. Previously, he served at the European Commission Delegation to the UN in New York as counsellor in charge of human rights and social affairs, preceded by his position as the Head of Political and Trade Section at the EU Embassy in Tel Aviv. Giaufret holds a PhD in the history of international relations from the University of Florence. He is Italian and is married to Minja Masson and is a father of 3.
CV of Ambassador Giaufret available here
Twitter account: https://twitter.com/EGiaufretEU?s=20