Every summer fires rage in Greece, endanger people and do enormous damage.  However, this year, the fires have turned into a natural disaster. Yesterday, 37 members of the Sector for Emergency Management from Niš travelled to help the Greek firefighters.
The firefighters from Serbia went south in 14 specialised vehicles, which they will use in the fight against forest fires, and part of those vehicles is a donation from the European Union.
In June, the Sector for Emergency Management received 27 fire trucks for extinguishing forest fires.  These vehicles are worth more than EUR 1 million and they are intended for municipalities and cities in all parts of Serbia, and they are a donation from the European Union.
Interestingly, these fire trucks are smaller than standard fire trucks, but still adequately equipped, and can move faster, even on difficult terrain. This is crucial for an immediate response immediately after a fire breaks out, as well as for the protection of people living in remote areas.
View this post on Instagram
Also, to make their impact on the environment less harmful and fuel consumption lower, the vehicles are equipped with engines with low pollutant emissions (EURO 6 standard).
In addition to being new, and therefore safer, the trucks are also equipped with useful tools. The 120-metre hose helps a lot in extinguishing forest fires, explained one of the rescuers present at the time, and there is also the possibility of pumping water from the surrounding lakes or rivers, which is further distributed to extinguish the fire.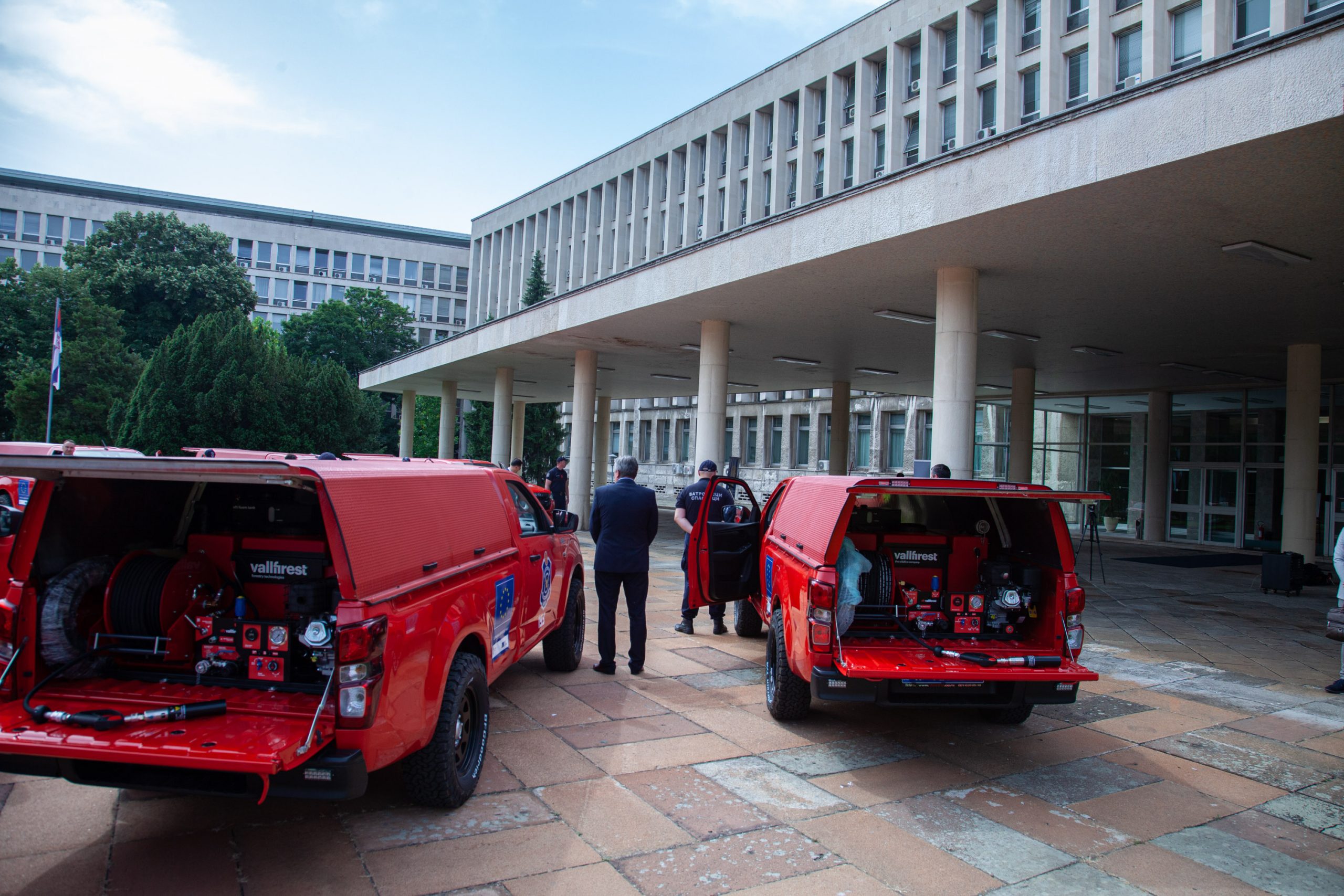 "This summer, the Sector for Emergency Management extinguished more than 850 fires on our territory, but they also participated in extinguishing fires in North Macedonia, and now it is ready to extinguish fires in Greece," said Minister of Internal Affairs Aleksandar Vulin yesterday, when he sent brave rescuers to Greece from Niš.
"I can truly say that I am happy and proud that we have the capacity and the opportunity to help. We also have fires, we keep them under control and we have the means to help another country that is our friend", added Luka Čaušić, acting assistant minister and head of the Sector for Emergency Management, on the same occasion.
Fires around Europe
Greece, Italy, Northern Macedonia, Albania, Turkey – fires have been raging in all these countries in recent weeks.
At the request of these countries, the European Union has so far helped mobilise 14 firefighting planes, 3 helicopters, about 1,300 rescuers and 250 vehicles.
9 planes, close to 1,000 firefighters and 200 vehicles are currently deployed in Greece alone. Aid is also coming from France, Germany, Poland, Austria and Slovakia, which are sending ground firefighting companies, in addition to the aid already provided last week to help put out forest fires in Italy, Albania and North Macedonia.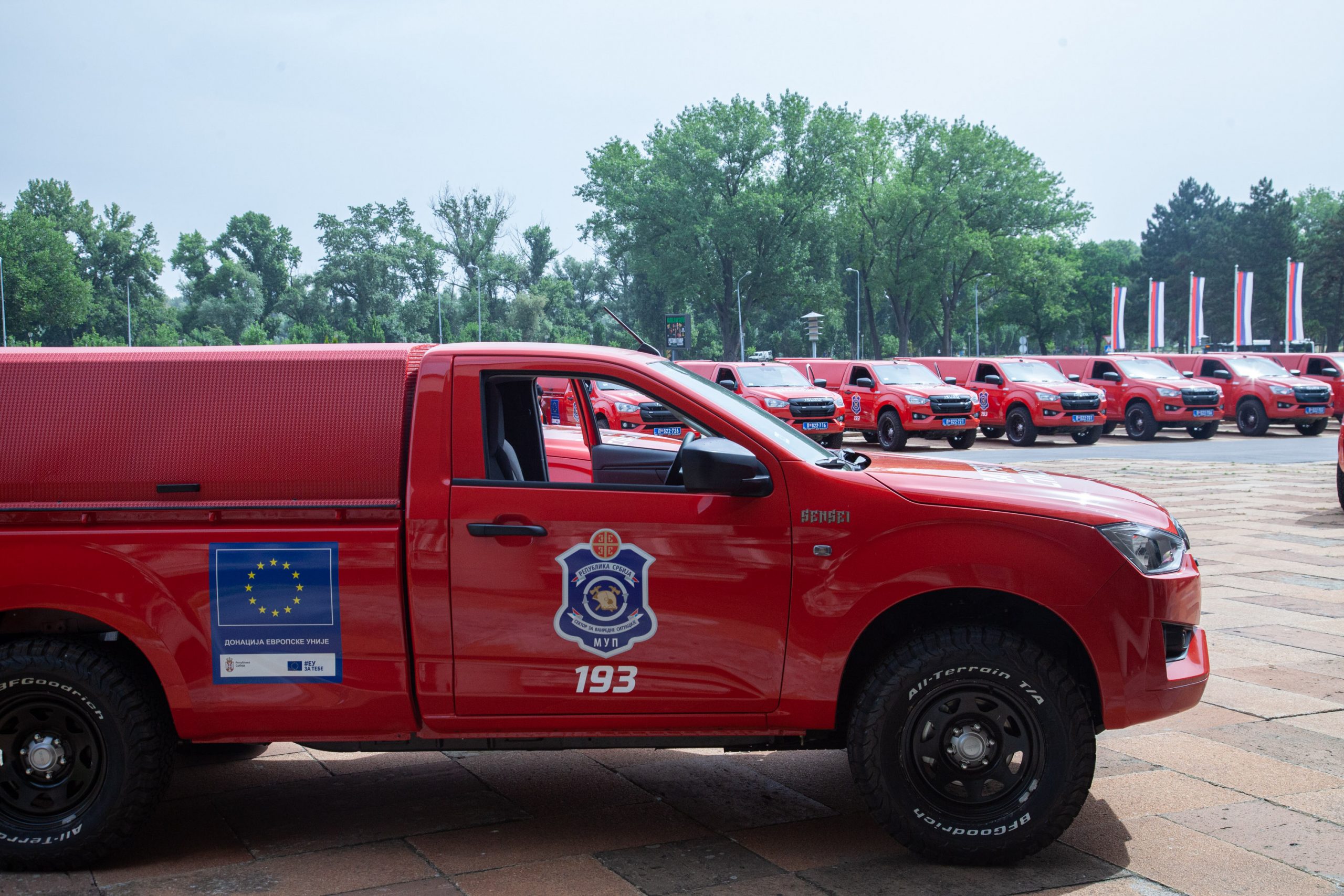 "One of the largest firefighting operations ever in Europe has been launched because several fires affect several countries at the same time. This shows the need to respond to crises should be a priority at the European level as well. The EU is in full solidarity with Greece, North Macedonia, Albania, Italy and Turkey, at this difficult time. I am very grateful to all the countries that have offered help for their tangible solidarity. Our thoughts are with all those affected and with the first answers who risk their lives in the fight against fire, " said Janez Lenarčić, Commissioner for Crisis Management.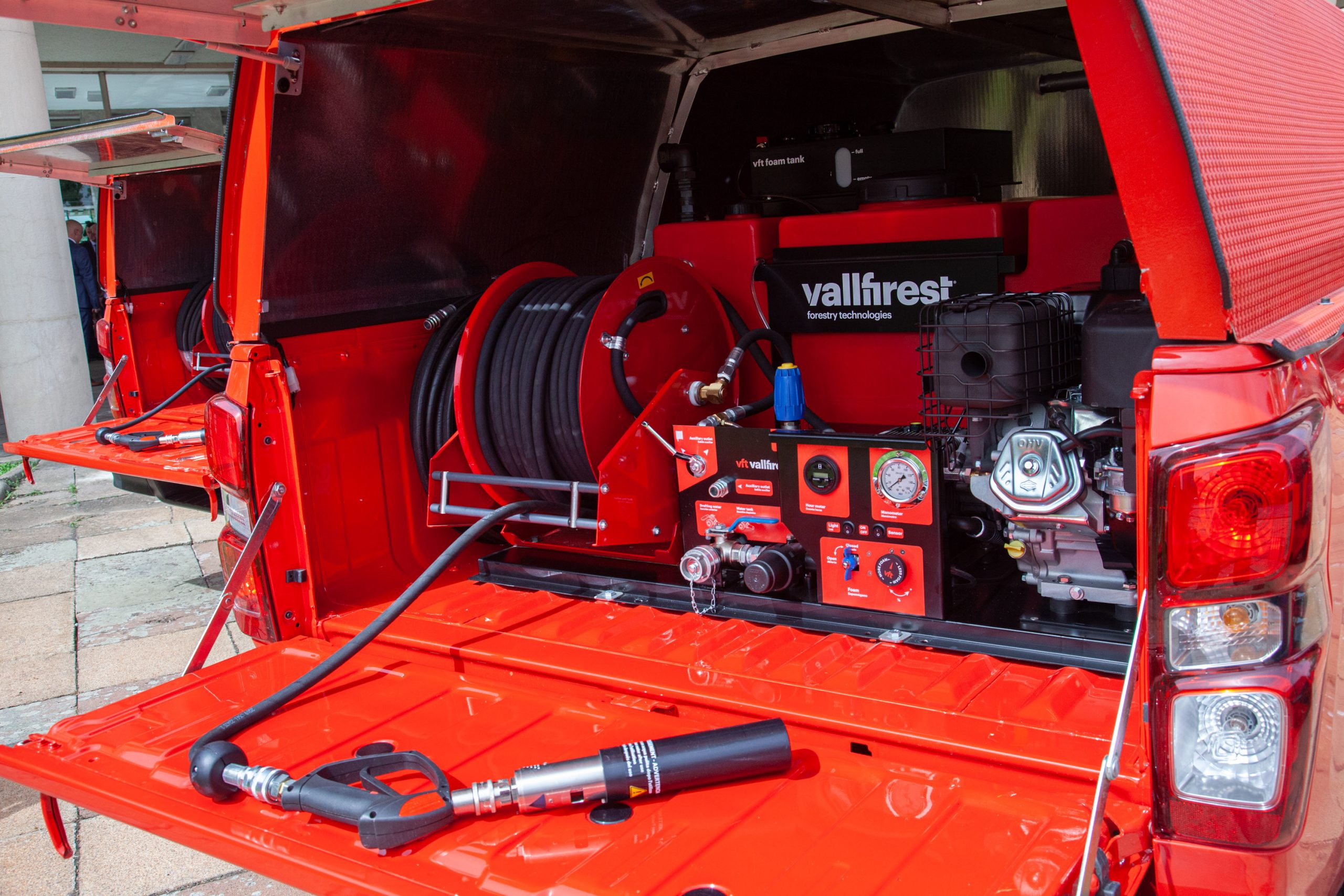 Civil Protection Mechanism
An extremely important instrument for the implementation of these types of assistance in the civil protection sector is the European Union Civil Protection Mechanism (EUCPM).
The EU Civil Protection Mechanism facilitates cooperation in emergency response, preparation and prevention between the Member States, as well as several other European countries. Serbia became a member of the Mechanism in 2015, but even before that, during the devastating floods in May 2014, Serbia felt the benefits of European solidarity through the EU Civil Protection Mechanism. That operation was one of the largest since the mechanism was established.
RescEU
In 2019, the EU strengthened the components of its disaster risk management by improving the EU Civil Protection Mechanism. The latest introduced element – rescEU – aims to improve both the protection of citizens from disasters and the management of emerging risks. In addition, rescEU is establishing a new European Resource Reserve ('rescEU Reserve') that includes a fleet of firefighting aircraft and helicopters, medical evacuation aircraft, as well as supplies of medical equipment and field hospitals that can respond to health emergencies, and chemical, biological, radiological and nuclear incidents.