Strengthening professional capacities of local communities to plan and manage preschool education in their communities, importance of involving children in preschool education and need to optimize preschool education, were the topics of a the three-day trainings held within the SUPER project (Support to preschool education system reform in Serbia) activities funded by the European Union.
During October and November 2019, seven three-day trainings were attended by 200 representatives of local communities – preschool institutions, health centres and social centres from 50 local self-governments included in the SUPER project. The trainings were held in Brzece, Sabac, Kragujevac, Nis, Golubac, Titel and Vrsac.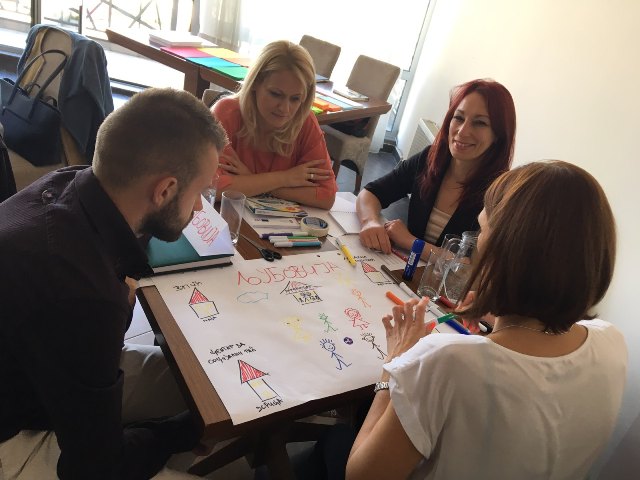 Lidija Miskeljin, the SUPER project Team Leader welcomed the attendees and presented project activities which involved 50 preschools and local governments across Serbia. She emphasized that quality of preschool education requires cooperation and involvement of local communities and all actors at the local level.
"Networking experts from preschools education, health centres, social centres and local self-governments aim to create a common strategy by providing information, new opportunities for better strategic planning and improvement of preschool education. Each of you has a special role to play and together you have the power to contribute to build quality inclusive preschool education", Miskeljin said.
Through interactive group work, participants discussed the importance of early childhood and its importance for all children to be involved in preschool education. Participants were introduced with the strategic and legal framework that is necessary to develop local strategies for improvement of the preschool education, as well as the way of drafting a strategic document and action plan necessary to determine the direction of action in this area, to plan financial resources and to link different institutions at the local level.
It is emphasized that more successful planning for the development of the preschool education requires a multi-sectoral approach and cross-sectoral cooperation, especially at the local level. Therefore, according to lecturers, mechanisms for cross-sectoral cooperation should be envisaged.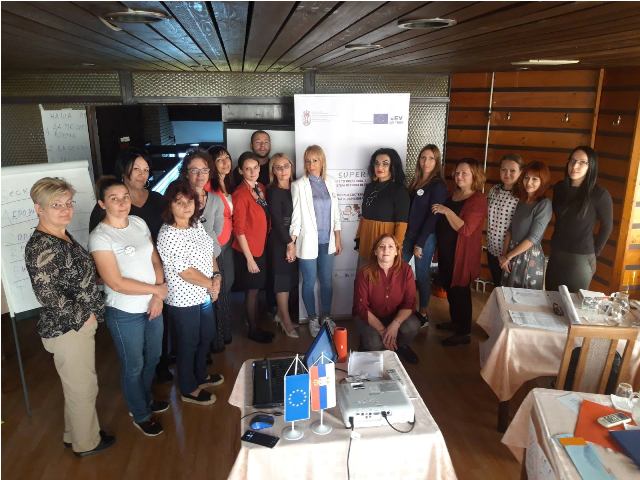 According to available data, 48 local self-governments in Serbia do not have a local strategic plan for the development of preschool education. According to lecturers, it is important to empower all actors in local communities to represent interests of early childhood in their communities and to promote the importance of preschool education in local community.
These trainings were assessed as very useful for further work and advancement of local pre-school education. Participants rate interactive work, gaining new knowledge and opportunity to share experiences as the most significant benefits of these trainings led by Milena Mihajlovic, Aleksandra Kalezic Vignjevic, Angelina Skarep and Olga Lakicevic from CIP – Center for Interactive Pedagogy.
About the project
The SUPER project is implemented in cooperation with the Ministry of Education, Science and Technological Development. The Contracting Authority is the Ministry of Finance, i.e. Department for Contracting and Financing EU funded Programmes (CFCU).
The project activities kicked off in March 2019 and will run for two years. The EU is funding the project with approximately EUR0.9 million. The project is being implemented by Particip GmbH in consortium with IB (Internationaler Bund), VBJK and CIP – Centre for Interactive Pedagogy.
The project activities will take place in 50 towns/local self-governments and their respective preschool institutions with the aim to strengthen professional competences of preschool institution staff for delivering quality and inclusive preschool education, enhance professional capacities of local governments to plan and manage preschool education and advance legislative framework in the field of preschool education.
The EU has therefore secured a grant for the provision of teaching aids, IT equipment and furniture to the tune of approximately EUR 1 million, which will additionally contribute to high quality and inclusive preschool education.
SUPER is one of the ongoing projects by which the European Union, as the largest donor in Serbia, supports the modernisation of the education system and its harmonization with EU standards and practices. Since 2003, the EU has donated more than 100 million EUR for the education sector reform. This includes the improvement of preschool education, support for the reform of vocational and adult education, renovation and refurbishing of schools and faculties, support for inclusive education, etc.