Toys, furniture, and IT equipment were delivered to Bubamara Kindergarten in Zemun Polje as part of the European Union's support for pre-school reform. The donation was officially delivered by the Head of the EU Delegation to Serbia, Ambassador Sem Fabrizi, Minister of Education, Science and Technological Development Mladen Sarcevic and Minister for European Integration Jadranka Joksimovic.
Toys, furniture and IT equipment for 56 preschools in 55 cities in Serbia worth millions of euros is part of EU assistance to improve preschools in Serbia in line with new pre-school education programs.
"Together with the Ministries of Education and European Integration, we launched this project to provide the children and their families, as well as the educators working in these institutions, with the necessary tools to work. Our help is very concrete, through this project we have provided toys, furniture and IT equipment to empower children and provide them with the best possible tools for their development. With this project, we have especially focused on kindergartens where we have minority groups or children from disadvantaged backgrounds, so we are trying to communicate good governance principles throughout the country, "said Ambassador Sem Fabrizi, Head of the EU Delegation to Serbia.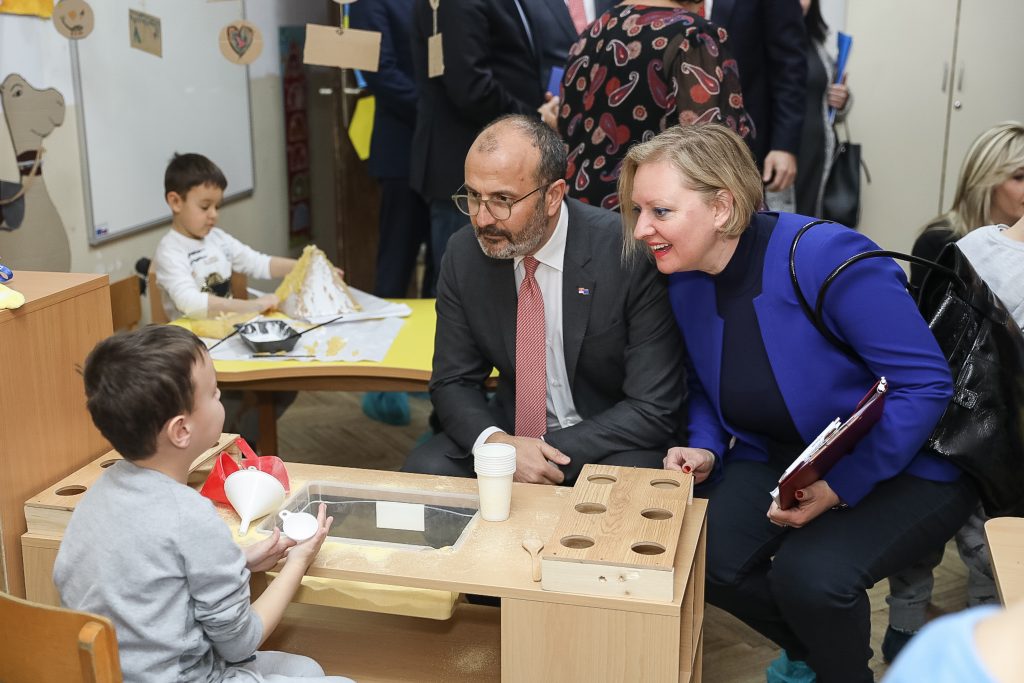 In an interview with educators and kindergarten staff, it was assessed that the EU donation is significant for all preschools in Serbia and will contribute to the further advancement of preschool education.
"The goal is to increase the reach of children and to make the program model tailored to the age of children. Therefore, it is necessary for the environment to be something that inspires, that didactic means, toys and everything else makes a pleasant space that develops the imagination. "Take-off years are one of the best programs for preschoolers," the minister said, adding that in addition to equipping kindergartens, training for educators is also envisaged, "said Mladen Sarcevic, Minister of Education, Science and Technological Development.
"The goal was to actually encourage early development and to prepare our children at this early age for new knowledge, new skills, new ways of learning that will await them already in elementary school with education reform. These are concrete projects where we, as a candidate country negotiating membership in the European Union, are entitled to funds, which is about € 200 million a year for various projects. Without children, everything we do is meaningless, so I think this is really one of the best projects we have implemented in recent years with EU funds, "said Jadranka Joksimovic, Minister for European Integration.
For 56 pre-schools in Serbia, 793 sets of furniture, 11,680 beds, 521 sets of appliances and 793 sets of toys have been donated to more than 500 facilities with about 40,000 children, aged 6 months before school.
In addition to the equipment received by 50 pre-schools from the poorest municipalities in Serbia, an EU project "Support to the reform of pre-school education in Serbia" is being implemented. About 1,500 educators and associates from these municipalities are being trained to develop professional competencies for quality inclusive early childhood education.
The five municipalities that received the equipment will become cluster centers for the dissemination of the New Fundamentals of Preschool Education Programs (Novi Sad, Zemun, Loznica, Pirot, and Cacak). The aim of the New Foundations Program is to develop the child's well-being and well-being through an integrated approach to learning, connecting play and other activities, as well as building meaningful relationships with peers and adults in an inspiring space.
The Sima Milošević Preschool in Zemun, of which Bubamara Kindergarten is an integral part, is attended by 5,155 children from the age of 1 to school. They are arranged in 256 groups within 33 objects.
Since 2003, the EU has donated more than € 100 million to reform the education sector – to improve pre-school education, reform vocational secondary education and adult education, renovate and equip schools and colleges, support inclusive education, etc.