They say that viruses don't discriminate. But the fact that emergency measures do, has heightened our sense of solidarity: while the elderly are staying at home, health professionals, pharmacists, sales people, drivers, the military, and the police remain at the "front line" of the fight. There is, however, another group of people offering assistance at the time of the COVID-19 pandemic: volunteers and organisations that took upon themselves to help the elderly and the socially vulnerable. Although we don't applaud their work every night, their humanity is nevertheless priceless.
Caritas Sabac is a citizens' association helping the elderly, the ill, people with disabilities and socially vulnerable groups. Their regular activities include help at home, day care services for people with intellectual disabilities, and running social enterprises. When the pandemic was declared, they continued with their regular activities and, on top of it, took part in a number of efforts aimed at reaching out to people in need in the City of Sabac and another four municipalities of the Macva District.
Among others, the European Union supports the organisation's activities. Through a number of projects, it has helped to purchase four vans and two passenger vehicles, and build and reconstruct two facilities. "Those projects were highly valuable for us; and I don't mean only for our organisation, but for citizens and local self-governments as well. With EU's financial support, our infrastructure is now shipshape. The importance of these projects is now more visible than ever and they have a long-term impact on the local population," the director Miroljub Nikolic says.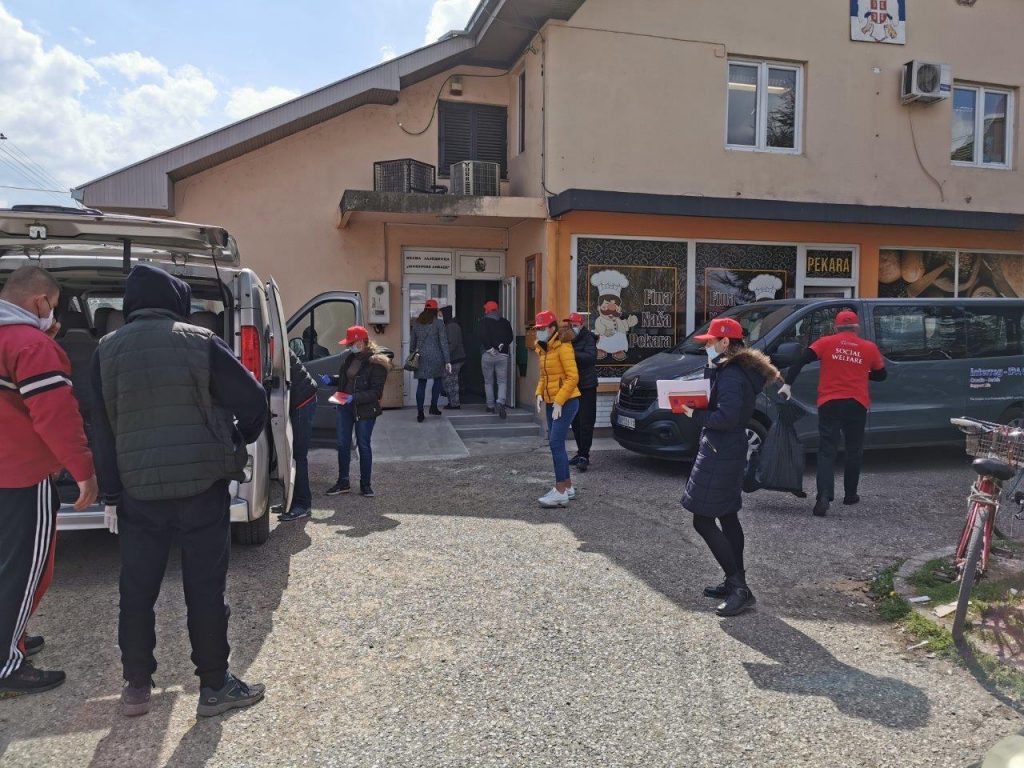 Nurses, caregivers, volunteers and social workers take care of the beneficiaries. "We work closely with local crisis units. Besides the ones who are on our regular visiting schedule, we take medicine to others in need, too. Together with a couple of other local organisations, and in cooperation with the City of Sabac, we deliver food to home addresses of 675 soup kitchen users. Many of our beneficiaries are either partially or fully disabled. We work seven days a week and some of them we visit even twice a day. Both our beneficiaries and our employees need to be extremely cautious now because of the virus. Not even our colleagues who have kids have asked to take a break," Nikolic notes.
With European Union's financial support, Caritas has built a day care centre in Sabac and reconstructed a day care centre in Bogatic. "These facilities are meant for people with mental disability. In cooperation with crisis units, we agreed to reduce the capacity of those two day care centres. Day care service is currently being used only by people who have no family support or cannot be left alone. If they weren't here, we fear they would be at a higher risk of getting infected," Nikolic underlines.
Once the pandemic was declared, 15 volunteers joined our organisation. "They mostly help us with food and medicine delivery to the elderly. Also, we are trying to influence our beneficiaries to wear protective masks and to use disinfectants," says Nikolic.
Stefan Karic is 19-years-old and goes to medical high school Doktor Andrej Jovanovic in Sabac. Karic used to volunteer occasionally at Caritas but since the pandemic has broken out, he volunteers every day: "I wanted to help people. For the last five weeks, we've been visiting our beneficiaries daily, delivering food to them. I would like to call on others to join us and help as many of our fellow citizens as possible."
In five local self-governments in the Macva District (Sabac, Bogatic, Mali Zvornik, Vladimirci and Koceljeva), Caritas provides services of social protection and help at home. Thirty five nurses and caregivers, and two social workers take care of 450 beneficiaries.
Ruzica Renovcevic is 72 years old and living alone in Majur near Sabac. "They've been visiting me since 2017. I am very happy that they help me. It means the world to me and I am always glad to see them."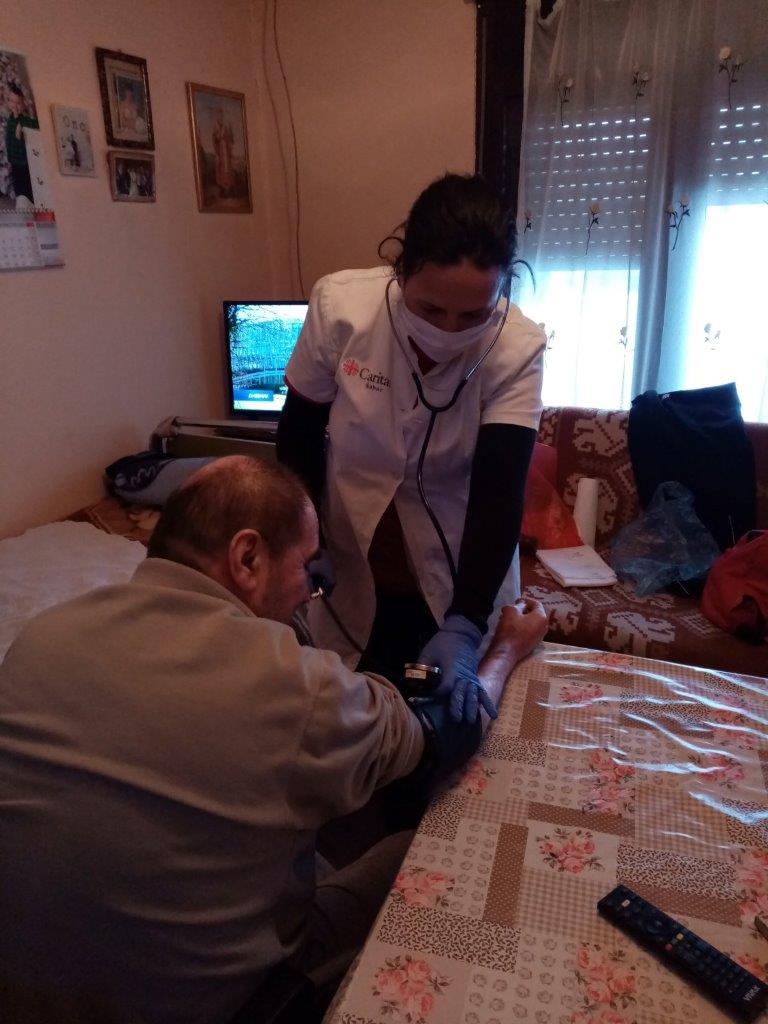 Caritas set up two social enterprises where it employs people from socially vulnerable groups: in Sabac, it started a dry cleaning service, while in Bogatic people are hired to produce fruits and vegetables, and to prepare food. And in the time of the pandemic, they even managed to employ three persons with disabilities. "Our projects are sustainable. We invest in people because this type of entrepreneurship is above all social in nature. We want to reach out to those in need," Nikolic stressed.
Speaking about the importance of EU's assistance to associations and citizens of the Macva District, Nikolic said that "the European Union, by directly supporting our work, showcases the good practice that exists in the EU: civil society organisations should be included in the system of social services. The EU Delegation's efforts to promote such services in the community were at the same time aimed at promoting the organisations that offer those services."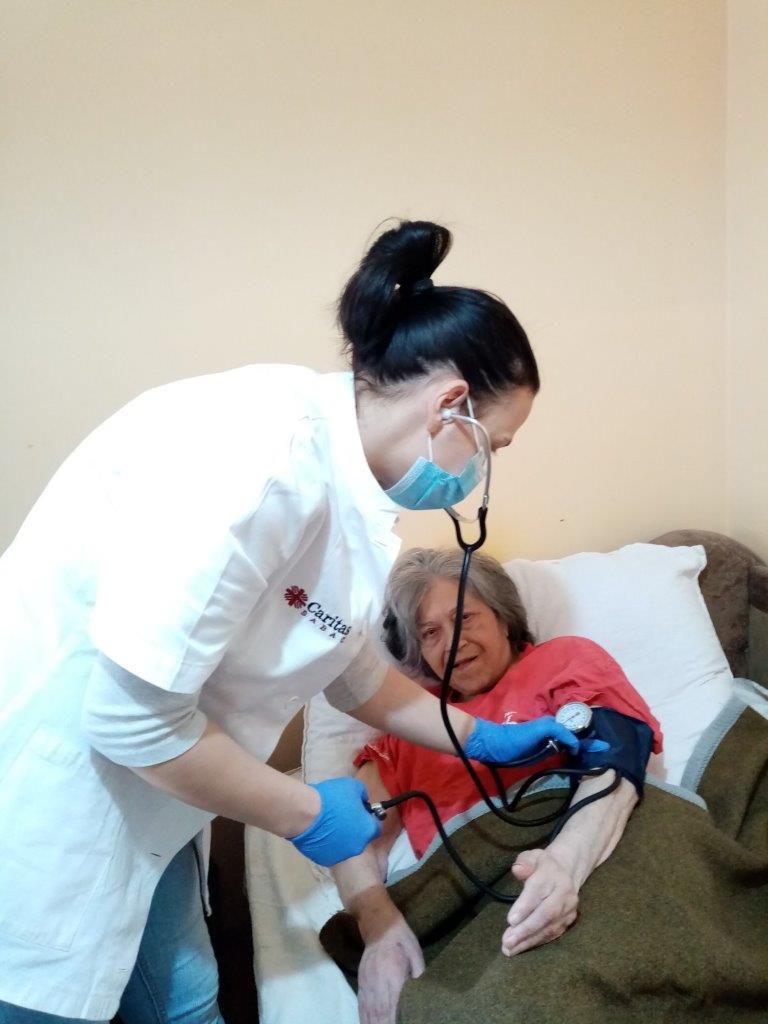 "The majority of our EU-supported projects also included training programmes and knowledge transfer from the European Union to Serbia. And by this I mean expertise in the area of social protection. Our organisation was founded on the principle of good practice in Europe, and we base our work on EU experience," Nikolic explains.
EU support for Caritas is one of many projects offering support for Sabac and the Macva District. With over EUR30 million, the European Union has funded the reconstruction of houses and flood relief following the floods, the infrastructure upgrade of the industrial zone, the construction of wastewater treatment facility and the Falcon House in Sabac, and many others.